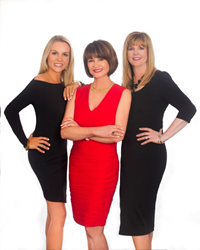 Austin, TX (PRWEB) June 17, 2015
International luxury real estate firm, Engel & Völkers today welcomes its most recent inductees from the Austin office to the firm's highly exclusive networking group, Private Office. They are:

Desmond Milvenan
Kathryn Scarborough
Michele Turnquist
Out of the 6,000 Engel & Völkers Advisors worldwide, there are now 47 who currently hold this designation, that's 0.8% of advisors worldwide are selected. This group is expected to generate over one billion dollars in sales annually. In order to join Private Office, advisors within the Engel & Völkers international network must be nominated by their brokers and are selected based on their individual, consistent, year-after-year production numbers, market expertise, notably high quality service and passion as real estate professionals. Clients are also asked to comment on their service experience as part of this process. Nominees are then submitted to a North American selection committee who decide which candidates meet all requirements for final submission to the head of Private Office in Hamburg, Germany.
With over 15 years tenure in Austin real estate, Milvenan was the Top Producer for 2014 for the Austin shop location and was rated by the Austin Business Journal as one of the Top 25 Austin Realtors for 2014.
Scarborough is one of Austin's top luxury real estate agents and was selected as the 2014 Woman of The Year by The National Association of Professional Women and was named in the 2014 Austin Business Journal's Book of Lists as the number two real estate agent city wide.
Turnquist is a top-producing Realtor with more than 35 years of experience in luxury residential real estate in the Austin area, including Lake Austin, Westlake Hills, Lakeway and surrounding communities.
"It's an honor to be a part of this exclusive network of the top agents," said Michele Turnquist, License Partner of Engel & Völkers Austin. "We are proud that our brand offers this superior network to the elite realtors who are representing Engel & Völkers around the world."
As Private Office Advisors, the group gains access to marketing tools and opportunities developed specifically to work with the luxury brand's highest net-worth clients. They also work together as the preferred contacts for international referrals that require the highest level of service and market expertise.
About Engel & Völkers
Since its beginning in 1977 as a specialty boutique providing exclusive, high-end real estate services in Hamburg, Germany, Engel & Völkers has become one of the world's leading companies specializing in the sale and lease of premium residential and commercial property and yachts. Engel & Völkers currently operates a global network of over 5,500 real estate advisors in 560 residential brokerages and 65 commercial offices spanning 39 countries across six continents, offering both private and institutional clients a professionally tailored range of luxury services. It established its North America corporate headquarters in 2007 and opened its first brokerage in the same year. Committed to exceptional service, Engel & Völkers supports its advisors with an array of premium quality business services; marketing programs and tools; multiple platforms for mobile, social and web; as well as access to its global network of real estate professionals, property listings and market data. Engel & Völkers is an active supporter of the Fair Housing Act and the Equal Opportunity Act. Each brokerage is independently owned and operated.
# # #
For further information please contact:
Charles Kim
212-234-3100
Charles.Kim(at)evusa(dot)com