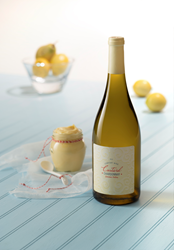 Sonoma, California (PRWEB) June 16, 2015
Fourth-generation Sonoma vintners Don Sebastiani & Sons unveiled Custard, an ultra-premium Sonoma Valley Chardonnay sourced from the Sebastiani family's prized Watmaugh Ranch vineyard.
Watmaugh Ranch is located in the breezy and cool southernmost part of Sonoma that dips into Los Carneros, composed of three parcels with tremendous variation in soils. On the eastern side the soil is compact adobe clay with some silt. As the land approaches Fowler Creek, the hard clay becomes alluvial and loamy. On the northeastern end of the vineyard, where Fowler Creek was diverted years ago, the soil is darker, wetter and appears almost fluffy. These different soil types impart distinct characteristics and flavors in the grapes, resulting in a truly unique Chardonnay.
Winemaker Gloria Mercado-Martin is able to evoke the rich and luxurious aspects of the Chardonnay grape by using low temperature stainless steel fermentation, gentle lees stirring and malolactic fermentation for a portion of the blend. A majority of the grapes are Chardonnay Hyde Clone, known for its 'hens and chicks', grape bunches that contain berries of different sizes and levels of maturity, producing strong aromatics and more concentrated flavors. Using these tools, Gloria is able to craft a unique wine with extravagant crème brûlée aromas and decadent tropical fruit flavors.
This Chardonnay takes its name from a favorite Sebastiani family treat, Sunday morning glazed doughnuts with creamy custard filling for all the kids. "The first time I stuck my nose into a glass of this Chardonnay, it brought me back to that moment – and the idea of comfort wine was born," explained Donny Sebastiani, President and CEO.
With Chardonnay's popularity, and indulgent, ultra-premium wines experiencing incredible growth, the timing couldn't be sweeter for Custard. This wine is the meaning of from grape to barrel to bottle, coming from Watmaugh Ranch vineyard, which has been farmed by the Sebastiani family for over 40 years. "Sonoma is where our family is rooted. It's where we live, where we work, and the place we have called home form more than 100 years. My Grandfather August bought this ranch, just a couple of miles south of town, in the 1970s, and my Dad made the first single-vineyard wines from it in the 1980s. It is a privilege to extend that legacy into my generation, building on our years of knowledge of this site," explained Donny.
Custard, the newest addition to their New House Vintners Portfolio, will be sold throughout the U.S. with a focus on specialty retail and fine wine shops, as well as select restaurants looking to offer their consumers something new, indulgent and visually pleasing. Adding to Custard's appeal is its high end packaging that complements its luxurious origins. With its French inspired pastry box design, elegant logo and warm and inviting lettering, Custard makes a discerning addition to anyone's table. Comfort never tasted so good.
About Don Sebastiani & Sons:
Don Sebastiani & Sons is a family-owned wine company based in the Sonoma Valley, with a winery in the Napa Valley. Principals Don Sebastiani and his sons, Donny and August, are third- and fourth-generation California vintners and merchants. For more information on Don Sebastiani & Sons and their wines, please visit http://www.donsebastianiandsons.com/.
For further media requests about information, photography or samples please contact:
Polina Burns
707.931.2402
pburns(at)donandsons(dot)com