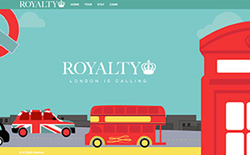 Lynchburg, Va. (PRWEB) June 16, 2015
A group of recent Liberty University Department of Studio & Digital Arts (SADA) graduates received a silver ADDY award for their website at the National Student American Advertising Awards, hosted by the American Advertising Federation (AAF). The winners were announced during the AAF's 2015 National Conference in Las Vegas.
This is the second time in three years that Liberty's entries have received a national award from the AAF.
The team of Emily Hoover, Kelly Byers, and Brianna Nissen reached the national level after receiving gold and Best of Student Work at the local level and gold once again at the district level.
Their faux travel website, "Royalty," features colorful illustrations, simple navigation, and even an HTML5 game playable in the user's Web browser.
"This year has been one of our most successful to date, with numerous awards in the ADDY competition," said Todd Smith, SADA chair. "Our students have once again shown that their work can compete and win against the best art and design schools in the nation.
"The awards our students have won this year are a reflection of the faculty/student mentoring paradigm that runs throughout the Department of Studio & Digital Arts. Our students reap the benefit of working with professors with years of 'real world' experience."
The American Advertising Awards are the industry's largest competition worldwide, drawing over 40,000 entries annually. The AAAs honor advertising in all forms of media, from the traditional design of print publications to digital design, including consumer apps. Competitions are held at local, district, and national levels.
"The creativity of our SADA students is demonstrated at the highest level," said Dr. Norman Mintle, dean of Liberty's School of Communication & Creative Arts. "We are grateful this recognition confirms the value of our unique hands-on approach to learning that we use here in the School of Communication & Creative Arts."
The Liberty University Department of Studio & Digital Arts, under the School of Communication & Creative Arts, prepares students with a theoretical and historical understanding of studio art or graphic design. The department recently launched a Master of Fine Arts program and will have a Bachelor of Fine Arts beginning this fall. A B.S. degree is also available with concentrations in graphic design, studio art, and teacher licensure.
About Liberty University
Liberty University, founded in 1971, is the largest private, nonprofit university in the nation, the largest university in Virginia, and the largest Christian university in the world. Located near the Blue Ridge Mountains on more than 7,000 acres in Lynchburg, Va., Liberty offers more than 450 unique programs of study from the associate to the doctoral level. More than 200 programs are offered online. Liberty's mission is to train Champions for Christ with the values, knowledge, and skills essential for impacting tomorrow's world.