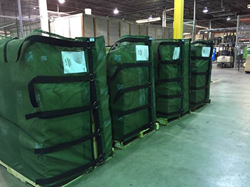 Pharmaceutical returns are safe and secure with new pallet wrappers
New York, New York (PRWEB) June 18, 2015
GRx, founder of the pharmaceutical returns industry, is proud to announce that they are now utilizing eco-friendly pallet wraps. The wraps reduce the amount of stretch film that was previously used to wrap pallets for in-house transit and storage.
In addition, landfill waste is reduced because the wraps can be used over and over again, where the plastic wrap had a one-time usage. BPA (Bisphenol A) levels are also reduced with the introduction of the pallet wrappers.
"The pallet wraps fit skids like a glove; we tested these wraps to make sure they held the product tightly and nothing falls off. We are excited that the product is as safe and secure as it was in the plastic wrap but without all the waste and cost," said Salvatore Battaglia, General Manager of the GRx Warehouse.
About Guaranteed Returns®
Guaranteed Returns® provides pharmaceutical return services to independent retail, chain-store, hospital, government, LTC, Mail-Order and clinic pharmacies. Mail-in and On-site service options are available. GRx local on-site service representatives are highly valued for their professionalism, trustworthiness and for "going above and beyond."
All customers have access to the customer portal which provides cradle to grave documentation, 150 customizable reports, an online inventory program, mail-in pharmaceutical returns forms (with auto-filled account information), and mailing and shipping labels.
Visit us on our website or call 1.800.473.2138 today to learn more.