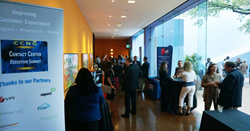 This event will be a great melding of the minds and building relationships...
Fort Worth, Texas (PRWEB) June 16, 2015
By special invitation, senior level executives gather at the annual Contact Center Executive Summit event each fall to share perspectives, proven strategies and innovative best practices around customer service. Hewlett-Packard rounds out the six selected CCNG partners invited to sponsor this annual event hosted in Fort Worth, Texas on August 3rd and 4th.
The Summit is unique in design to bring together senior level management in customer care and contact center to engage with peer discussion leaders from both operations and industry; open forums, facilitated small group conversations in addition to the social networking plans throughout the two day Summit. Attending member companies this year will include senior management from T. Rowe Price, GoDaddy, The Kroger Company, BOK Financial, Liberty Mutual Insurance, Ericsson, Hilton, JP Morgan Chase, Kohl's and Wells Fargo among many others.
"The focus of this event is to get everyone's input through a variety of different elements in the agenda over the two days we get together," says CCNG's President and CEO David Hadobas. "For many of our executives it has been years since they actually met and had meaningful time to converse with their peers…so the value is high for all invitees."
Discussion leaders will share personal experiences and draw insight and perspectives from executive attendees. Some of the topics for discussion include:

Innovative Performance Management Programs
Leadership and Development Approaches
Cross-Channel Service Continuity
Evolving Analytics: Speech, Text, Data, Desktop, and More
Self-Service in an Omni-Channel World
The Right Way To Right-Channel
Knowledge Management
Workforce Optimization strategies and successes
"We are excited to share, actively participate, learn and listen to our colleagues about their successes and challenges. This event will be a great melding of the minds and building relationships. HP is looking forward to this Executive Summit."- Roger Lee, Senior Director – Product Marketing, HP
The event is two days of sharing with executive managers and industry thought leaders tackling what has moved the needle for their organizations. Each day is packed with interactive sessions where participants review past initiatives and future plans, discuss insights and lessons learned, and offer benchmarks for comparison.
"The CCNG Executive Summit offered an exceptionally unique and engaging forum to interact with other leaders who are focused on further improving the experience their customers receive. The conversations and connections I experienced will be leveraged in the future as we look to expand the services provided to our members." - Jim Lavery, Vice President Contact Center Operations, Desert Schools Federal Credit Union
For details on how to attend or present in future CCNG executive or mid-level management events, contact Michelle Porterfield, mporterfield(at)CCNG(dot)com. View program details for all CCNG events on the CCNG web site, Events tab.
CCNG International Inc.
Founded in 1992, CCNG International Inc., CCNG is a member Professional Peer Network (PPN) for Contact Center, Customer Experience and Customer Service Executives, Managers, and Leaders.
By joining the CCNG Member Network, experienced industry professionals:
Connect – interact and engage with your peers,
Collaborate – discuss best practices and problem solve,
Contribute – share your own experiences and expertise.
All Call Center, Contact Center, Customer Care, Customer Service, and Customer Experience Professionals are invited to participate in the CCNG Member Network. For more information about the CCNG Member Network, please visit CCNG.com, "Like" us on Facebook, and follow us on Twitter - @CCNGNetwork.
# # #