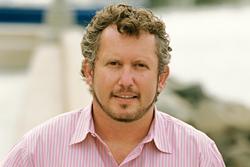 "The more successful a designer becomes, the more detached they get from their original goal of transforming lives," said Cutler. "This partnership gets back to why I became a designer in the first place—to make a difference in the lives of others."
Dallas, TX (PRWEB) June 17, 2015
Dwell with Dignity, together with nousDECOR.com and celebrity designer Mark Cutler, have turned a house into a home for a Dallas mom* and her four children. The mother of four, whose identity remains protected for her own safety, was nominated by the New Friends New Life program to receive a completely new home environment, courtesy of the first-time partnership between the two design-based organizations. The renovated and redecorated home will be revealed to the public—and to this family—at 4:00 p.m., Thursday, June 18.
As nousDECOR's Chief Designer, Mark Cutler and his Los Angeles studio work with many of Hollywood's A-list stars and have been named one of Robb Report's "Top 40 US Design Firms." Together with Dwell with Dignity and a host of retail and private donors, Cutler worked to create a space that will empower this mom and her children to live their best lives, taking away the chronic stress often associated with families in difficult situations. The team used a soft, neutral color palette throughout the home, while blues, greens and pastels turn the master bedroom into a sanctuary of sorts. While the physical installation will take nearly four full days, the planning that went into this project took upwards of 1,000 hours.
"After months of hard work by our respective teams, the result is a gorgeous home designed to encourage stability and love for the family in their new life," said nousDECOR Co-Founder Dorothee Fisher. "The space is a great reflection of our philosophy that beautiful design has the power to transform lives, and that everyone should be able to enjoy a space that's meaningful for them, regardless of budget."
The Dallas-area mother of four was nominated for the project after exceeding the career goals established by the New Friends New Life program, an organization designed to help trafficked women and those in the sex trade escape their situation and thrive. While working with New Friends New Life, she has been able to achieve stability and success through her hard work and determination.
"We so appreciate the nousDECOR team and Mark Cutler for partnering with us on this very special project," said Lisa Robison, President and Founder of Dallas-based Dwell with Dignity. "Their design expertise, dedication to our mission and generosity in providing the furnishings and design expertise for this home is inspiring and underscores their message that 'design matters!'"
Mark Cutler, an award-winning designer who has created homes for celebrities such as Jennifer Lopez, Steve Carell and Vanna White, has no ties to Dallas or the DFW community, but like many others involved, he was drawn to this project because of the impact a new environment would have on this family of five.
"So often, the more successful a designer becomes, the more detached they get from their original goal of transforming lives," he said. "The partnership between Dwell with Dignity and nousDECOR gets me back to the root of why I became a designer in the first place—it lets me make a difference in the lives of others."
nousDECOR and Dwell with Dignity furnished and appointed the family's home with the help of many donors ranging from high-end design studios, such as Gina Berschneider and Robert Allen Fabrics, to major brands and national retailers such as Cost Plus World Market, Lamps Plus, Lowe's, Stacy's Furniture, Nathan Grace, Benjamin Moore, Garnet Hill, and The Container Store. For full list of sponsors and donors, visit http://www.nousdecor.com/designmatters.
For more information on the reveal, or to attend the event, please contact Renee Barfoot, Director of Development, Dwell with Dignity, at reneebarfoot(at)dwellwithdignity(dot)org.
*Her name and any photos of the front of the home have been omitted to protect her identity.
Dwell with Dignity
Dwell with Dignity is a nonprofit group of interior designers and volunteers dedicated to creating soothing, inspiring homes for families struggling with homelessness and poverty. Our mission is to help families escape poverty and homelessness through design; one household at a time. We empower families to lead their best lives and to thrive in a safe, functional and beautiful environment. By providing and installing home interiors that include furnishings, art, linens, kitchen supplies and food in the pantry, we enable families to become stable and create home lives they are proud of. Toxic stress levels are reduced significantly. Academics improve. Play dates are made. Plans are made for birthday parties, holiday gatherings, and family dinners. These homes will have a powerful generational impact. To learn more go to dwellwithdignity.org or email info@dwellwithdignity.org.
nousDECOR Inc.
nousDECOR® (http://www.nousdecor.com) is an online interior design platform that combines crowd-sourced ideas and inspiration with search tools and automated recommendations to provide users with everything they need to decorate a space. nousDECOR provides much more than beautiful images and links to products, but also all the resources you need to translate dream designs into reality, from intelligent search tools and a "Same Look Different Price" recommendation engine, to a moodboard builder and access to thousands of moodboards curated by design professionals and enthusiasts. The San Mateo, California-based company closed a $2.1 million round of seed funding in October 2014.
New Friends New Life
New Friends New Life, founded in 1998, restores and empowers formerly trafficked girls and sexually exploited women and their children. By providing access to education, job training, interim financial assistance, mental health and spiritual support, New Friends New Life helps women and their children overcome backgrounds of abuse, addiction, poverty and limited opportunities. For more information, visit http://www.newfriendsnewlife.org or call (214) 965-0935.
# # #