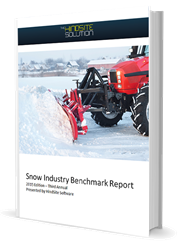 "Releasing the Snow Industry Benchmark Report has become an annual tradition. With snow businesses so heavily dependent on the weather, it's always fascinating to see how they fared."
St. Paul, MN (PRWEB) June 18, 2015
According to the recently released 2015 Snow Industry Benchmark Report, the 2014-15 snow season was a boom/bust proposition. Snow contractors in the Northeast saw a significant increase in the number of snow events when compared to last year, while those in the Midwest saw snow events decrease considerably. Those snowfall totals impacted snow revenue, with 47% of respondents saying year-over-year snow revenue increased, while 35% indicated revenue decreased.
These findings are reported in the 2015 Snow Industry Benchmark Report recently released by the snow removal software vendor, HindSite Software. The report is the culmination of a month-long surveying effort and reflects the challenges and outlook expressed by nearly 150 survey respondents who provide snow removal services.
"Releasing the Snow Industry Benchmark Report has become an annual tradition," explains HindSite's Marketing Manager, Chad Reinholz. "With snow businesses so heavily dependent on the weather, it's always fascinating to see how they fared."
Among the key findings:

Despite the revenue shortfalls, profitability was, on the whole, healthy; 33% reported profit margins in excess of 30%.
Competition is fierce in most markets, with 44% saying competition was high or above average, while just 17% said it was low or they had little to no competition.
Usage of field service software hasn't increased, with just 25% of respondents indicating they have software. Those that leverage software say eliminating paperwork and improving operational efficiency are the primary benefits.
Among snow industry trends are increased usage of GPS tracking devices and software (up 8% year-over-year, to 24%) and continuing to grow service offerings. 54% of this year's respondents say they offer plowing, shoveling, deicing, blowing and hauling, up from 46% a year ago, and 40% two years ago.
Roughly half of respondents attended a trade show in the past year, and 30% belong to the national Snow and Ice Management Association, or SIMA.
This year's report also featured a new section dedicated to subcontractor management. 53% of respondents indicated they use subcontractors, though they're typically limited to using less than five during a snow event. The biggest issue with subcontractors is finding good ones, though those who pay their subcontractors within a week of a snow event were less likely to cite finding good subcontractors as an issue.
"The data backs up what we've heard from snow contractors when it comes to managing subcontractors," explains Reinholz. "They have a difficult time collecting information from their subs, which in turn slows down customer billing, which leads to poor cash flow. Collecting subcontractor information in real time is the key to alleviating a lot of subcontractor issues."
HindSite recently improved their Snow Event Manager to simplify subcontractor data management. The new solution enables subcontractors to use a field app or a dedicated web portal to enter time records, snow depth information and more. In addition to faster invoicing, the solution streamlines subcontractor payment.
The 2015 Snow Industry Benchmark Report is available for free at http://info.hindsitesoftware.com/2015-snow-industry-benchmark-report.
About HindSite Software
HindSite Software has helped contractors better manage and grow their business with field service software since 2001. Initially designed as irrigation software, HindSite today assists service businesses with scheduling and billing, contact and contract management (e.g. field service CRM), field data collection, and invoicing in QuickBooks® and Sage50. This paperless field service management software has been proven to increase efficiency and organization, meaning greater profit potential with less administrative time.