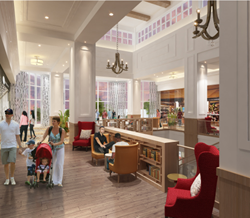 We aim to create a hospitality-flavored experience with all the comforts of home.
Birmingham, Ala. (PRWEB) June 17, 2015
Cypress Equities, the management company for Brookwood Village, today announced its plans for updating the interior of the two-level shopping center that straddles the communities of Homewood and Mountain Brook.
The overall goal of the $20 million redevelopment plan is to reimage the shopping center in a way that connects with its targeted shoppers in the surrounding communities. This new approach creates a casually sophisticated setting reminiscent of homes that are found in the center's immediate trade area. Contemporary modern architecture will be combined with traditional elements, accented by an eclectic mix of furnishings and softer finishes.
"Our fresh slant on the redesign of Brookwood Village is to convert it to a boutique shopping and entertainment destination," stated Todd Minnis, chief investment officer for Cypress Equities. "We aim to create a hospitality-flavored experience with all the comforts of home."
Work will commence as early as July 6 and be accomplished in four phases, with the overall interior project slated for completion by June 1, 2016.
The first phase of the project will encompass the east side of the upper level stretching from Macy's to Kay Jewelers. Scheduled to be complete by the end of September 2015, the common area concourse between Macy's and the Village Eatery Food Court will be updated with wood flooring. Soft seating areas will be positioned on spacious area rugs in a number of locations spaced along the hallway. The interior court positioned directly outside Macy's entrance leading into the mall's common area will feature sofas, coffee tables, ottomans and lamps, providing shoppers with a comfortable gathering place.
The second phase of renovation work will commence in early October on the opposite side of the upper level, encompassing the common area between the food court and Belk department store. The western concourse and end court will be treated in a similar fashion to the east side, with work scheduled to be complete by the end of 2015.
Two new elevators, with interior access points near each department store court, will be added allowing for better vertical transportation between the upper level of the shopping center and all levels of the parking decks. In addition, new family restrooms will be constructed adjacent to each of the department store courts, providing greater ease and comfort to a family's shopping experience at Brookwood Village.
The third phase, beginning in January 2016, will focus on the existing food court and the central atrium on the building's northern wall on the upper level.
The food court will be reworked to create a new distinctive dining destination that will include an array of tables for small, intimate meetings and large community tables for larger gatherings. Once complete, seating in the food court will accommodate approximately 370 diners. This space will highlight a combination of two-top, four-top and bar-height tables, as well as four showcase farm tables.
The central atrium will showcase warm wood tones in porcelain tile flooring and broad-loom carpeting, as well as exposed wood beams in the high ceilings. The existing half-octagonal windows, newly accented with floor-length drapes, will continue to allow for natural lighting to engulf the shopping center's central gathering space. Additional lighting will be provided by decorative chandeliers and sconces. The area will host an abundant amount of soft seating options, including high-back chairs, stools, lamps plus decorative wood bookcases that replace metal handrails.
The third phase of renovations is slated for completion by March 31, 2016.
Finally, the fourth phase, beginning in April 2016 and slated to conclude in June 2016, will remodel the lower level common area. Directly inside the building's main entrance off Village Lane, the foyer will feature a small soft seating area similar to the department store courts on the upper level.
"Brookwood Village's comprehensive remodel will feature dramatic interior updates, creating a more energetic and inviting shopping experience," stated Chris Maguire, chief executive officer of Cypress Equities. "Our company is excited to offer this new vision of Brookwood Village for the residents of Homewood, Mountain Brook and beyond."
About Brookwood Village
The 816,000-square-foot Brookwood Village consists of a 604,000-square-foot, two-level enclosed mall, a 41,900-square-foot grocery-anchored retail component, plus a nine-story 170,000-square-foot Class "A" office building. The retail portion of the project is anchored by Macy's, Belk and Books-A-Million, and also features such top brand names as DSW Designer Shoe Warehouse, LOFT, Victoria's Secret, Brio Tuscan Grille and Z Gallerie. Shopping hours are 10am until 9pm Monday through Saturday and noon until 6pm Sunday. Department store and restaurant hours may vary. More information may be found online at http://www.ShopBrookwoodVillage.com.
About Cypress Equities
Cypress Equities* (Cypress) was founded in 1995, by Chris Maguire and has since established a national reputation synonymous with the premier development, operation and management of destination-class retail and mixed-use properties throughout the U.S. Historically, Cypress has developed and acquired more than 18 million square feet and currently is developing and managing a portfolio of more than 9.4 million square feet of retail, office, residential and automotive real estate. Today, there are six Cypress Equities offices throughout the U.S., including Dallas (headquarters), Chicago, New York, San Francisco, Atlanta, and Fort Lauderdale. Visit http://www.cypressequities.com for more information.
*The Cypress Equities name, logo and other marks are trademarks and service marks being licensed to independent operating companies by CE Brands, LLC. Any particular obligation, service or product is the sole responsibility of the specific entity that incurs such obligation or supplies such service or product.