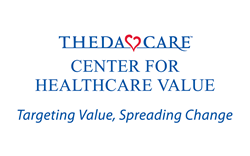 Learning from each other's clinical results and stories is why we share our progress -John Toussaint, MD, CEO of the ThedaCare Center for Healthcare Value
Appleton, Wis. (PRWEB) June 18, 2015
Continuing in their commitment to transparency, members of the Healthcare Value Network (HVN) have released their latest quarterly results on the power of lean principles to drive improvement in care quality and value.
The HVN is part of the ThedaCare Center for Healthcare Value and consists of a peer-to-peer learning community of approximately 60 healthcare organizations across the United States and Canada. "The improvements demonstrated in these results have significant positive impact on health systems and help patients see the change and waste reduction being done to provide better care on their behalf," said Director Mike Stoecklein.
Highlighted member results for this quarter include:
HealthEast Care System (Minnesota)

Decreased "All Cause 30 Day Readmission Rate" by 11%, from 7.2% in fiscal year 2012 to 6.5% in fiscal year 2014.
Increased number of improvement ideas by 35% from 18,203 in Fiscal Year 2013 to 28,016 in fiscal year 2014.
Improved operating margin by 44%, from 1.70% in fiscal year 2011 to 3.06% in fiscal year 2014.
For the Heart Care Value Stream:
- Increased the percentage of AFIB patients treated within 40 days from 11% to 94%.
- Reduced inpatient/observation/ED visits per month for A-Fib patients by 31%.
- Decreased cost of care for A-Fib patients from $1,766 to $1,565.

For Home Health patients:
- Improved "average days to first bill" for Home Health patients by 79%, from 38 days to 8.
- Improved completion of plan of care from 10% (within 7 days) to 49% (less than 3 days).
New York City Health & Hospital Corporation (New York)

Improved Emergency Department "fast track" cycle times at Elmhurst Hospital while experiencing an increase in patient volume by 15 percent.
- Decreased "triage completed" time by 22 minutes in five months at Elmhurst Hospital.
- Decreased wait time to "seeing provider" by 22 minutes in five months at Elmhurst Hospital.
- Decreased "arrival to discharge" time by one hour and seven minutes in five months at Elmhurst Hospital.

Decreased average length of stay on the Elmhurst Hospital adult psychiatric inpatient unit by 39%, from 31.8 days (March 2013) to 19.4 days (February 2014).
Improved first case start time by 28 percent at Jacobi Medical Center Perioperative Services.
Improved completed medication reconciliation prior to discharge by 47 percent at Kings County Hospital.
Reduced median wait time for Emergency patients by one hour and 52 minutes at Lincoln Hospital.
Improved providing an aftercare plan upon discharge for inpatient diabetic patients by 93 percent at Queens Hospital Center.
"Learning from each other's clinical results and stories is why we share our progress," said John Toussaint, MD, CEO of the Center. "HVN members are students as well as teachers, and their peer-to-peer learning encourages lean improvements throughout the healthcare industry."
Established in 2009, the HVN was founded by the ThedaCare Center for Healthcare Value and the Lean Enterprise Institute. It is now an integral part of the Center and its healthcare mission.
ThedaCare Center for Healthcare Value
The ThedaCare Center for Healthcare Value is an education institute that believes we must have three essential elements for sustainable change in healthcare: Delivery of care designed around the patient, payment and incentives based upon value and outcomes, and transparency of performance (quality and cost) throughout the healthcare system. Founded in 2008 and headquartered in Appleton, Wisconsin, we are a small not for profit with a big mission to help change the healthcare industry. Learn more at: createvalue.org.
###