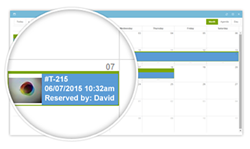 The reservation feature enhancements provide added visibility, which allows users to effectively track the movement of shared assets across multiple departments or projects
San Jose, California (PRWEB) June 17, 2015
ASAP Systems, a leading provider of cloud asset tracking software, has announced new capabilities in its asset check-out feature which make it easier for users to plan, schedule, and manage their assets. The feature now includes an intuitive calendar interface and the ability to create an unlimited amount of users that can reserve and visually track assets. This greatly reduces scheduling time and helps teams improve oversight of asset transactions.
BarCloud admins now receive improved security and user-access control options. Organizations can set-up an unlimited number of "Reservation Users," an access level that allows employees to find the info they need and reserve assets, but denies them access to making any unauthorized changes in the system. This creates tiered roles and simplifies workflow.
"We always want our users to have their finger on the pulse of what is going on," says Greg Wachowiak, Senior VP of Engineering at ASAP Systems. "The reservation feature enhancements provide added visibility, which allows users to effectively track the movement of shared assets across multiple departments or projects."
The new calendar view makes processing unavailable and duplicate equipment checkouts a thing of the past. Multiple users can see which assets are being reserved and by whom, as well as the expected check-out date and pick-up time. In addition, the calendar view provides the flexibility of selecting between monthly, daily, and agenda viewing formats.
Asset Reservations is available for use right now. For more information visit:
http://www.asapsystems.com/barcloud/asset-reservation.php
About BarCloud
BarCloud is a market leading online inventory management and asset tracking system enabled by barcodes, smartphones, and tablets. It helps improve profitability by eliminating manual data entry, paper files, and forms by automating record keeping. With ASAP's online inventory and asset system, businesses always know where and how assets and inventory are received, stored, used, and disposed of. Tracking capabilities extend beyond the office and into the warehouse or field.