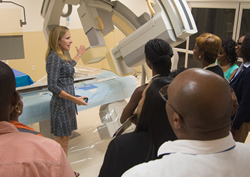 "We are grateful to the Bahamas for the support and care shown to Okyanos and we are looking forward to a bright future.--Okyanos COO Manuel Vianna
Freeport, Grand Bahama (PRWEB) June 17, 2015
Okyanos, the leader in adult stem cell therapy, opened its doors Friday, June 12th, to an illustrious crowd of visitors to celebrate the approaching milestone of its first year safely treating patients. Located in the First Commercial Centre on East Mall in Freeport, Grand Bahama, the Open House welcomed nearly 200 visitors providing guided tours, refreshments from local chefs, and a demonstration of the science behind adult stem cell therapy.
"This Open House was a great event to showcase our facility," said Okyanos Anesthesiologist Dr. Vincent Burton, Fellow of the Royal College of Anaesthetists, UK (FRCA). "We have a great team at Okyanos and are getting really good results with our patients. The sizable attendance from the Grand Bahama community was a demonstration of both their eagerness and support."
Visitors took advantage of the tours offered, and many got to see a depiction of how stem cells are processed from fat along with real examples of human fat (in bio-hazard bags) processed with the technologies used by Okyanos to separate the stem cells from the fat tissue. Also present were representatives of Grand Bahama media outlets ZNS Broadcasting Corporation, the Freeport News and the Freeport Tribune who conducted interviews with Okyanos Chief Cell Therapy Officer Dr. Todd Malan and Okyanos COO Mr. Manuel Vianna.
"We are grateful to the Bahamas for the support and care shown to Okyanos and we are looking forward to a bright future," said Vianna. "On behalf of our patients, I would also like to warmly thank our Bahamian staff and friends for making our success possible."
After searching for a suitable location, Okyanos determined Freeport as the optimal spot for its high regulatory standards and pristine environment, providing a perfect backdrop for patients looking for a low stress atmosphere in which to safely undergo treatment. Since the facility opened its doors in October, Okyanos has treated over 100 patients with the mission to use cell therapy to help chronically ill patients return to a more normal life.
Adult stem cell therapy has emerged as a new treatment alternative for those with a variety of cardiac, autoimmune, orthopedic or neurological conditions that cause severe lifestyle restrictions. Okyanos Cell Therapy uses a unique blend of adult stem and regenerative cells derived from a patient's own fat tissue, thereby utilizing the body's own natural biology to heal itself.
Just 55 miles from US shore, Okyanos Cell Therapy is available to patients suffering with the daily discomfort of many diseases and is a viable option for patients living with serious and debilitating conditions like heart failure, rheumatoid arthritis, scleroderma and diabetes. This innovative treatment utilizes adult stem cells (from one's body fat) which have the ability to decrease inflammation, repair damaged tissue, facilitate better cell-to-cell communication and stimulate new blood vessel growth.
Patients can contact Okyanos to learn more and request a complimentary consultation at http://www.Okyanos.com  or by calling 1-855-659-2667. 
About Okyanos: (Oh-key-AH-nos)
Based in Freeport, Grand Bahama, Okyanos brings a new standard of care and a better quality of life to patients with coronary artery disease, autoimmune diseases, tissue ischemia and other chronic neurological and orthopedic conditions. Okyanos Cell Therapy utilizes a unique blend of stem and regenerative cells derived from patients' own adipose (fat) tissue which helps improve blood flow, modulate destructive immune response and prevent further cell death. Okyanos is fully licensed under the Bahamas Stem Cell Therapy and Research Act and adheres to U.S. surgical center standards. The literary name Okyanos, the Greek god of the river Okyanos, symbolizes restoration of blood flow.