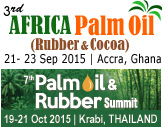 The Africa edition will explore the renewed investment sentiment – across palm oil, rubber and cocoa businesses, while Asia edition will examine the new era of full supply chain traceability and challenges for the palm oil industry in Asia.
Accra, Krabi (PRWEB) June 23, 2015
Sponsored and supported by Olam, the Accra summit will be graced by the Honorable Minister Fiifi Kwetey, Minister of Agriculture, Ministry of Food & Agriculture Ghana, with an opening address outlining the 'Masterplan for Ghana's Agriculture Industry including New Regulations and Policies for Investment'.
Panel of speakers from major companies and organisations, including: SIAT, Olam International Ltd., Olam Gabon, Oil Palm Development Association Ghana, Tupin Agro, Solidaridad West Africa, Ministry of Agriculture & Rural Development, Vince Golden Oil Holdings, Rubber Research Institute of Nigeria, Hardman & Co., Institute of Agricultural Research for the Development (IRAD), Africa Renewables and PalmElit SAS are joining in to share their insights on palm, cocoa and rubber industry in Africa. The highlight at this Accra summit is an optional site visit to GOPDC – an integrated agro-industrial company that is a subsidiary of SIAT Group on day 3 of the event.
On the other hand, 7th Palm Oil & Rubber Summit in Krabi will field prominent speakers such as Siegfried Falk, Co-Editor of OIL WORLD, who will share his views on 'Diverging influences from oilseeds on palm oil - implications for supply, demand and prices in 2015/16' and Dr. Simon Lord, Executive VP – Group Sustainability & Quality Mgt at Sime Darby Holdings Berhad giving latest updates on their NBPOL merger. For the rubber focused track, Dr. Paitoon Wongsasuthikul, Deputy Secretary General of Thai Rubber Association (TRA) will share details on Thai government's initiatives to shore up rubber prices.
Invited speakers for the palm oil track hail from palm oil majors like Olam International Ltd., Felda Global Venture Plantation, Cargill Tropical Palm Holdings, Technical Committee of High Carbon Stock (HCS) Study, Pertamina, Malaysian Palm Oil Board, Applied Agricultural Resources and International Plant Nutrition Institute (IPNI). Similarly, senior executives from New Forests Asia, Terragro, Japan Cambodia Tropical Plantation Partners, Olam International Limited, Greenyield, Malaysian Rubber Board, Aspinwall and Applied Agricultural Resources are sharing rubber industry market insights.
Delegates of the Krabi summit can also look forward to 2 site visits: one to Univanich Oil Palm Research Centre in Plaipraya District of Krabi and another to Rubber Plantation and Factory Site in Ao Leuk District of Krabi both scheduled on the second day of the event.
Visit 3rd Africa Palm Oil (Rubber & Cocoa) website and/or 7th Palm Oil & Rubber Summit website for more details on the 2 summits.
Contact Ms. Hafizah at +65 6346 9218 for any questions related to both the events.