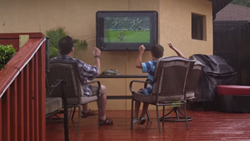 Happy Father's Day to all of the hard working dad's out there.
Altamonte Springs, Fl. (PRWEB) June 18, 2015
Protective Enclosures Company (PEC), the leading US manufacturer of plastic weatherproof TV and digital display enclosures, is celebrating Father's Day with a big sale on The TV Shield website. Having been featured on television shows such as Flipping Ships, Designing Spaces as well as Spontaneous Construction and used in more than 6,000 locations, The TV Shield is the ideal gift for Father's Day.
Protective Enclosures Company was founded by brother's Justin and Jarad King. The brothers were determined to manufacture a weatherproof TV solution at an affordable price. As a family owned and operated business, PEC hopes to bring the fun of outdoor TV watching to families this Father's Day. Justin and Jarad are both fathers and realize the important role fathers play in a child's life. They want to reward fathers by running PEC's BEST PROMOTION EVER! The company is offering a free outdoor audio system kit this holiday to encourage families to give fathers the gift of an outdoor TV solution. "Happy Father's Day to all of the hard working dad's out there" stated PEC, CEO, Justin King.
Details about the sale are available at The TV Shield website. Customers can receive a free outdoor audio speaker kit valued at $129.99 with this special.
About Protective Enclosures Company:
A+ rated with the BBB, PEC is the manufacturer of The TV Shield ®, The Display Shield ® and The TV Shield PRO ® branded weatherproof digital signage enclosures and water-resistant outdoor TV cases. These display and TV protection solutions are used in over 6000 locations, in 15+ countries worldwide.
*All PEC, The TV Shield, The Display Shield and The TV Shield PRO logos and product names are owned by PEC. Other company and product names may be trademarks of their respective owners, and PEC does not claim official endorsement of any named businesses.