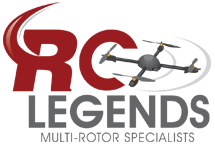 After an extremely successful events season, we are excited to attend the Large Model Aircraft Rally at RAF Cosford
(PRWEB UK) 18 June 2015
After a busy spring and summer attending events throughout the country, the Wolverhampton based company are gearing up to display their multi-rotor range at Cosford to finish off the events season.
RC Legends specialise in retailing, building, repairing and flying a wide range of remote control quadcopters and multi-rotor flight systems, ranging from hobby flight systems, to professional and commercial standard quadcopters for film making, to the increasingly popular FPV racing kits. With more than 10 years at a hobby level and 5 years of commercial experience, RC Legends have been able to build up a range of products to suit all RC enthusiasts.
Following a number of busy and successful events so far this year, the Cosford Large Model Aircraft Rally is a local event for RC Legends so they are expecting a considerable number of Midland's based quadcopter and small model aircraft enthusiasts to attend.
As well as displaying and demonstrating their extensive range of remote control products, RC Legends will also be launching exclusive competitions and giveaways at Cosford. Edward Brotherton, Manager at RC Legends, said:
"After an extremely successful events season, we are excited to attend the Large Model Aircraft Rally at RAF Cosford. As this is a local event for us, we are looking forward to displaying our multi-rotor range and meeting as many Midlands RC enthusiasts as possible. Look out for us in our bright red marquee."
To learn more about the range of products and services offered by RC Legends, you can visit the RC Legends website at http://www.rclegends.co.uk/.