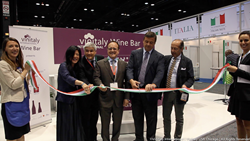 The educational aspect is more important than the marketing
Chicago, Illinois (PRWEB) June 17, 2015
At this year's FMI Connect, held from June 8th-11th in Chicago, the "Made in Italy" brand made history as Italy became the first ever "host country" of the annual food and beverage industry mega-fair. Vinitaly International's participation as the worldwide ambassador of Italian wine featured a full day of Vinitaly International Academy (VIA) sold-out tasting seminars designed to lead members of the mature US trade through in-depth explorations of some of the great Italian vintages.
Italian Vice Minister of Economic Development, Carlo Calenda was on hand to inaugurate the event, a key aspect of a joint project supported by the Italian Ministry of Economic Development (MISE) and organized by the Italian Trade Agency (ICE) with the aim of developing the Italian agro-industrial sector. The Vice Minister applauded the educational efforts of VIA, acknowledging its essential role in developing an international market for Italian wine. "The educational role of the Vinitaly International Academy is fundamental. Once you get to a certain level of quality, the battle in international sales is all waged over the customer knowing and getting closer to the product. And so the educational aspect is more important than the marketing. In other words, you cannot have a real marketing strategy without an educational strategy."
Following the Vice Minister's press conference, on Tuesday, June 9th, Internationally renowned wine writer, expert on Italian native grapes, and VIA scientific director Dr. Ian D'Agata led members of the trade and press through three high-level tasting seminars, each one focused on a particular Italian varietal. The first, The somewhereness of Barolo: differences and similarities in these great wines, entailed a tasting of wines from each of the eleven townships qualified to use the Barolo name, with an emphasis on recognizing the nuances and variations among the labels. "Being led through the different townships, soils, wineries, it was really interesting to be able to see that reflected in the levels of astringency, floral notes, the difference the amount of aging made," explained seminar participant Cheryl Knight, of HEB food retail in San Antonio, Texas. "It was quite fascinating to hear from such an expert in Italian wines – probably the most educational tasting I've ever been to."
Next on the program was an exploration of Franciacorta, Italy's lamentably undervalued sparkling wine, Italy's answer to Champagne: Franciacorta, aimed at explaining the qualities that set Franciacorta in another class of quality with respect to the better-known, cheaper Prosecco. "We definitely need more education like this, especially for wines like Franciacorta," agreed participant Jessie Becker, Court of Master Sommeliers Americas in Chicago, IL. "As Ian D'Agata mentioned, there is a lot of confusion about those wines. Everyone thinks of Prosecco first, and doesn't understand why Franciacorta is more expensive. In fact these wines have nothing to do with Prosecco, they are made in the classic method like Champagne, and are of a very high level of quality. So yes, they are more expensive but are clearly in another class as far as quality goes."
Concluding the seminar series, Dr. D'Agata introduced participants to new stylistic expressions of one of Italy's classic everyday wines, Montepulciano d'Abruzzo: new, improved and exciting, one of Italy's greatest red wines. As the new generation of Abruzzo winemakers forgoes the use of oak, they produce wines that are much lighter and fruitier than the hearty, inexpensive wines of their parents. "It was nice to see the diversity in Montepulciano d'Abruzzo; I love the older style, but the newer ones are a little more modern, brighter, cleaner and fresher," explained seminar participant Michael Yang, Trade Consultant at MyWine. "VIA is fantastic, because there are so many Italian wines, and a lot of them are misunderstood. Italy is really doing a better and better job with their wines, and as a result some of the styles are changing. It's great to get that message out and educate the public, especially in the US, where Italian wines are extremely popular."
In addition to the three seminars, Vinitaly International also hosted a wine bar during the three days of FMI connect, allowing visitors to sample a variety of outstanding Italian vintages. The first two days focused on individual grapes – Barbara, Barolo and Dolcetto – while the third day celebrated premium labels supplied by Consorzio Il Franciacorta and Associazione è Abruzzo.
The Vinitaly International Academy was launched last year in New York, as an innovative educational initiative that allows members of the wine trade to deepen their knowledge of Italian wine and assist them in their effort to sell one more bottle of Italian wine in top international markets. VIA travels the world educating members of the trade and press on the complexities, nuances, and surprises that characterize Italian wines. The US represents one of the most mature and receptive markets for Italian wine, as the success of VIA in Chicago demonstrates: "I was very impressed with the depth and breadth of the wines, and the knowledge of the presenter - they really brought me up to a new level," agreed Mike O'Donnell, Trade Director of Buisness Development Federated Group Cheryl Knight Partner Learning & Developmente HEB in Chicago. "Now I can go back to my organization and my customers and pass on this knowledge to them, about the great value and quality of Italian wine, which - based on what I learned here today – is amazing. Italian wine has been very underrepresented in our portfolio, and it's a tremendous opportunity to expand our selection.
As this US tour concludes, Managing Director of Vinitaly International Stevie Kim returns to Milan, where Vinitaly is hosting its largest educational endeavour to date: "VINO – a Taste of Italy," at EXPO 2015, the first-ever world expo pavilion dedicated to wine. There, visitors are taken on a multi-sensory journey into the world of Italian wine- past, present and future. "With over 500 native grape varietals, Italy has the richest wine culture and history of any wine-producing region on the planet," explains Stevie Kim. "The VINO pavilion was designed to celebrate that history and serve as an educational tool for visitors to the Expo from all over the world. It has also made history as the first Expo pavilion dedicated to wine, and will allow Italy to take its rightful place as a world leader in wine education, which other countries and Expo hosts are already inspired to emulate."
About:
Veronafiere is the leading organizer of trade shows in Italy including Vinitaly (http://www.vinitaly.com), the largest wine and spirits fair in the world. During its 49th edition Vinitaly counted some 4.000 exhibitors on a 100.000 square meter area and 150.000 visitors including 2.600 journalists from 46 different countries. The next edition of the fair will take place on 10 - 13 April 2016. The premier event to Vinitaly, OperaWine (http://www.vinitalyinternational.com) "Finest Italian Wines: 100 Great Producers," will unite international wine professionals on April 9th in the heart of Verona, offering them the unique opportunity to discover and taste the wines of the 100 Best Italian Producers, as selected by Wine Spectator. Since 1998 Vinitaly International travels to several countries such as Russia, China, USA and Hong Kong thanks to its strategic arm abroad, Vinitaly International. In February 2014 Vinitaly International launched an educational project, the Vinitaly International Academy (VIA) with the aim of divulging and broadcasting the excellence and diversity of Italian wine around the globe. VIA has now also organized its very first Certification Course with the aim of creating new Ambassadors of Italian Wine in the World.
###