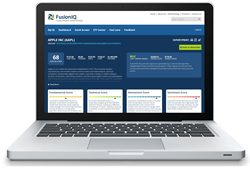 "Our ability to provide an unbiased, four-dimensional view of stocks and ETF's through a robust and user-friendly web-based platform presents an offering that is unique in the financial data marketplace today" Kevin Lane, FusionIQ Founder & CIO
Wellesley, MA (PRWEB) June 18, 2015
FusionIQ today announced the launch of its next-generation FusionIQ Trader Platform (http://www.myfusioniq.com). Highlights of the new platform include complete redesign of the FusionIQ website & Trader Platform, new "IQ IT!" stock profile page, new FusionIQ "Composite Master Scores" for ETF's, new "ETF Center" with new ETF profile pages, and much more.
The idea behind FusionlQ was conceived over a decade ago after Kevin Lane, FusionlQ's founder who was featured as a member of Business Week's October 2002 ''Analysts Who Get It" A-Team for his notable stock picking acumen, had an idea: "What if investors acted only on objective information, only those data points that could be shown to matter, data that actually identified stocks that were poised to perform?"
Understanding that the majority of information that Wall Street obsessed over seemed to be information that lagged rather than predicted major price moves, Kevin began with excel sheets mathematically testing market data points from both technical and fundamental schools of thought searching for which information added the most value to the investment process. The idea was to formulate a "fusion" of relevant data isolating stocks that were most likely to succeed while also providing a timeliness element for entries and exits via strong technicals. The result was a robust algorithm which generated numerical scores on a scale of 1-100; specifically a Fundamental Score, a Technical Score and a Master Score which was a weighted combination of the Fundamental and Technical Scores.
Since that time, FusionIQ has been extensively upgraded from its early spreadsheet days and today's FusionIQ utilizes a four-dimensional algorithm "fusing" fundamental, technical, momentum and sentiment indicators.
According to Lane, now FusionIQ's Chief Investment Officer, "Our upcoming release of the next-generation FusionIQ is by far the most exciting development in our 7 year history. Our ability to provide an unbiased, four-dimensional view of stocks and ETF's through a robust and user-friendly web-based platform presents an offering that is unique in the financial data marketplace today."
About FusionIQ
FusionIQ, headquartered in Wellesley, MA, is a financial information and technology company with a proprietary algorithm for scoring stocks and ETF's in four dimensions, empowering professional traders, registered investment advisors, institutions and family offices with smarter analytics for smarter investing.