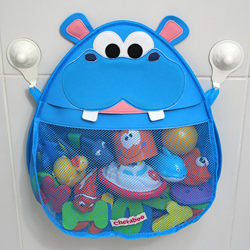 This bath toy storage solution is brilliant. Hurley can hold all my child's toys ready for the next fun bath time.
(PRWEB) June 29, 2015
Family brand Cheraboo has released onto Amazon.com a hippo styled kid's bath toy organizer. The bath toy holder is called Hurley, a blue hippo and is tipped to become popular with parents who want to keep bathrooms clutter free but at the same time not overlooking the fun factor in every bath time. The bath tub toy holder fixes to the wall with two extra strong suction cups and the quick drying mesh bag guards against toys getting moldy.
The Hurley hippo bath toy organizer is set to be popular amongst parents because of its key features. It's a bath toy storage solution made of a durable, quick-drying and hygienic synthetic rubber material that is easy to clean. It is designed to keep all kinds and shapes of bath toys with its large stretch net. It attaches to bathroom surfaces easily and safely with its two 'Limpet-Lock' Suction cups, allowing parents to keep toys out of the tub or shower after a bath. The Limpet-Lock Suckers are specifically designed to stay put no matter what and this is all thanks to a patented isothermal technology that is known as the best and strongest on the market. Finally, the bath toy net is mildew resistant so toys stay mold free since water drains straight through the stretch net.
A spokesperson from Cheraboo spoke further about their bath toy organizer. "Kids will love taking a bath with Hurley hippo, keeping all their toys safe and clutter free ready for bath time fun. There is no single rubber ducky or toy ship amiss. Parents will also love this baby bath toy organizer since it's easy to use and keeps all the toys that the children will need for a fun bath. Kids love feeding their bath toys into Hurley hippo and watching them drop into his mesh tummy. The Hurley hippo is a great bath toy holder to keep the bathroom tidy and ensure your kids enjoy a clutter free tub at bath time. Any child will love this fun toy organizer and will be happy to let Hurley look after their toys between baths. And, parents love the fact that they don't have to keep nagging the kids to put their toys away."
The Hurley hippo bath toy storage system is from Cheraboo one of the most trusted baby accessories companies today. Cheraboo takes bath time to a whole new level with this efficient and attractive toy holder. Cheraboo has chosen Amazon.com to market the Hurley hippo brand because the trusted online shopping site has the strongest market not just in North America but also in Europe and in Asia. Cheraboo and Amazon.com make great partners in caring and ensuring the safety of children no matter where they are.
The Hurley hippo bath toy holder is just one of the many products that Cheraboo is planning to release under the Hurley hippo brand. Cheraboo would like to establish the Hurley hippo brand as a fun family brand that brings practical and fun items into every family home.