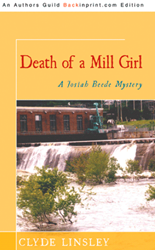 ...examines past racial tensions and poor industry conditions to show how such history affects our views today
ANNANDALE, Va. (PRWEB) June 18, 2015
Despite the two million American children who suffered harsh working conditions during the Industrial Revolution, governmental figures did not think about fixing the problem until the early twentieth century. However, Josiah Beede took up the fight for justice long before.
The first novel in the historical mystery trilogy, "Death of a Mill Girl" follows the investigations of the retired war hero, Josiah Beede, who returns to work after a young mill girl is found murdered on his land.
Published author Clyde Linsley wants to expose readers to the period of industrialization and all it had to hold. In a suspenseful novel, he examines past racial tensions and poor industry conditions to show how such history affects our views today.
"Issues of race and class have been a continuing theme in my life, as in everyone else's in the United States," Linsley said. "We're all shaped by our history – even the history that happened before we were born."
After spending many years working for a newspaper in Connecticut, Linsley became familiar with Old Sturbridge Village, a replication of a 19th century farming village, and wanted to bring this same world alive in his novels.
As the government addresses global issues related to industrialization, mobilization and human rights, Linsley's brave protagonist in a gripping story of crime and intrigue shows that anyone can work to bring such issues to an end.
"Death of a Mill Girl"
By Clyde Linsley
ISBN: 978-1-4401-2501-0
Available in softcover, hardcover, e-book
"Death of a Mill Girl" and Linsley's three other books are available on Amazon, Barnes & Noble and iUniverse online stores.
About the author
After obtaining a Bachelor's degree in Journalism from University of Missouri, Clyde Linsley's work was heavily influenced from growing up during the desegregation years in the south. Linsley spent six years writing for the U.S. Department of Transportation and many more writing for a local newspaper in Hartford, Conn. before he decided to take a turn with novels. Now a four-time published author, Linsley lives in Virginia and works to merge history with the present in action novels for all readers.
# # #