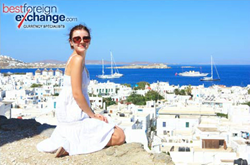 Greece's economic conditions has raised concerns for foreigners planning to travel to the area and advise to carry bank notes instead of cards.
London, UK (PRWEB UK) 25 June 2015
In spite of Greece's looming economic crisis, AOL has recently identified Mykonos Island as one of the top six European destinations to visit in 2015, predicting it to be especially popular amongst tourists over the upcoming summer months. In light of this declaration, foreign currency specialist BestForeignExchange.com released particularly competitive exchange rates for the relatively weakened euro, making the trending destination even more accessible to its European neighbours by cutting travel expenditures while in-country.
AOL's article published on June 5th reported a 31% increase in internet searches for holiday travel to Mykonos Island coming from the UK over the past three years. In response to its rise in demand, currency specialist BestForeignExchange.com is offering highly competitive exchange rates for the euro, a much safer option than prepaid and bank cards due to the current instability of Greece's economy.
According to AOL, Skyscanner has dubbed Mykonos "the new Ibiza for 2015," spurring popularity from its developing reputation as a party island after several highly-publicized celebrity visits sparked interest in the destination. Other locations AOL identified as being on Europe's holiday hit list for 2015 include Milan, Slovenia, Marseille, North Coast 500 and Catalonia.
New luxury hotels, celebrity endorsements, and increased accessibility from the addition of direct flights from London's Heathrow airport by British Airways have all contributed to the island's growing tourist activity. Even so, the uncertainty of Greece's economic conditions has raised concerns for foreigners planning to travel to the area and advise to carry bank notes instead of cards.
"Greece is a wonderful place to visit this summer. On top of the weakened euro is the incentive to holiday at a trending European hot spot. However, as recommended in the news, it's better to avoid ATMs and card payments to ensure your holiday will be a pleasant and smooth one," stated Trevor Samuel, the Senior Manager at BestForeignExchange.com.
BestForeignExchange.com offers all major European currencies, including the Croatian Kuna, Swiss Francs, Chez Koruna, Belgium Lev, and Scandinavian Kroner–each available for purchase at any of the currency specialist's branch locations. As London's largest foreign currency supplier with the most expansive variety of currencies, BestForeignExchange.com manages 120 different types of foreign bank notes to give Londoners the best travel money options for holidaying this summer.
Due to the present exchange rates faring better than they have in years–a result of the weakened euro–BestForeignExchange.com advises customers to buy their travel money well in advance when the rates are favourable to ensure the best value for their money, in addition to avoid the risk of facing worse-off rates commonly found at airports and paying additional charges on bank and prepaid travel cards.
BestForeignExchange.com does not charge any commission on buying and selling travel money. For more information about current exchange rates or to place an online order for foreign travel money, please visit http://www.bestforeignexchange.com.
About BestForeignExchange.com
Owned and operated by Thomas Exchange Global, BestForeignExchange.com offers the most competitive exchange rates in London and customers that reserve currencies online will be assured the same exchange rate until close of business on the particular day despite any adverse fluctuations. They stock the widest range of foreign currencies in London with over 120 types of foreign bank notes. All foreign currency buy/sell transactions are free of any commission or charges.
Thomas Exchange Global also offers International Money Transfer Service where funds can be remitted to overseas bank accounts within 1 to 2 days. With commission free service for transfers over £10,000 backed by competitive exchange rates, customers are assured of a better deal and a substantial saving compared to banks and money brokers. Thomas Exchange Global branches are located at Strand, Victoria Street, Liverpool Street, Hammersmith, Cannon Street, Canary Wharf, Embankment, Richmond and London Wall.