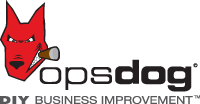 Houston, Texas (PRWEB) June 18, 2015
OpsDog.com, the web's leading resource for business process improvement data and tools, is kicking off its 2015 Crowdsourced Finance Operations Benchmark Study.
Study participants receive an in-depth, operations-focused benchmarking comparison. OpsDog data analysts typically spend a maximum of 30 minutes on the phone with participants discussing finance operations and related key performance indicators (KPIs). When the study is completed, customized benchmarking documents containing comparative finance mertics are developed and sent to respondents — free of charge. Typically, reports of this nature range in price from $500 to $5,000 or more, and traditional consulting engagements may move into the six and seven figure ranges. In addition to the free, customized benchmarking report, OpsDog is offering study participants 20 complimentary download credits (a $100 value) that can be redeemed on OpsDog.com.
All information collected and contained in the final benchmarking report is kept anonymous. The identities of study participants (individuals and company names) are never revealed.
OpsDog's team of analysts is seeking mid-to-senior level finance executives at Fortune 1000 companies: Chief Financial Officers, Chief Accounting Officers, Senior Accountants, Accounts Payable/Receivable Managers, Budgeting and Forecasting Managers, Treasurers, Controllers, Finance VPs/Directors/Managers, and Senior Financial Analysts.
The industries being targeted by this particular study include insurance, commercial banking, health insurance, pharmaceuticals, utilities, energy, media services, manufacturing and telecommunications.
The final benchmarking report is slated to include 20+ metrics, defined and compared across competitors and peers, both in and out of industry. These metrics will cover several aspects of finance operations including size (employees, revenues, assets), organizational structure (span of control, management layers), functional characteristics (cycle times, error rates, productivity), cost (total, departmental, unit cost) and work activities (work performed within the finance department).
Finance professionals looking to receive a customized, confidential finance performance benchmarking report, including balanced scorecard-style metrics, are being asked to fill out this simple contact form (or email info@opsdog.com). OpsDog's team of analysts is standing by to answer any and all questions related to the 2015 Finance Operations Benchmarking Study.