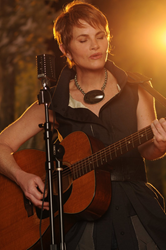 Fairfield, CT (PRWEB) June 17, 2015
Fairfield Theatre Company will host two incredible shows at the Norwalk Concert Hall starting at 8 p.m. Thursday, June 25.
Singer-songwriters Deb Talan and Steve Tannen, both of whom had released solo material before banding together to form the folk-pop duo The Weepies, first met at one of Tannen's shows in Cambridge, Mass. At the time, Tannen was touring in support of his debut record, "Big Señorita." Mutual admirers of each other's music, the two musicians started writing songs together, and soon The Weepies' whimsical, acoustic-based sound took shape.
After releasing their third album, "Hideaway," the husband and wife duo would put a hold on touring, only playing selected dates and preferring to focus on raising their new son. But with a flurry of TV placements and commercial advertisements, including Old Navy and Chase Bank, The Weepies music never vanished from the public's ear.
With their simple yet insightful songwriting and distinctive harmonies, The Weepies have sold more than one million records, have more than 17 million streams on Spotify, 20 million views on YouTube and more than 100 TV/film syncs. They now return to the stage for the first time since 2010's, "Be My Thrill."
Coming to the Norwalk Concert Hall in support of their newest release "Sirens," their first full-length release after Deb was diagnosed with Stage 3 breast cancer back in 2013, shows a band at the height of its powers. While Deb underwent treatment, the band continued to write and record from their home studio in Iowa. With the couple unable to travel while Deb was in treatment, they invited guest musicians to record remotely wherever each musician happened to be, resulting in an unlikely superstar backing band. Players from across the spectrum jumped in, including Pete Thomas and Steve Nieve (Elvis Costello), Gerry Leonard (David Bowie), Rami Jaffee (Foo Fighters), Tony Levin (Peter Gabriel), Oliver Kraus (Sia), and Matt Chamberlain (Pearl Jam), as well as veteran Weepies compatriots Frank Lenz, Eli Thomson, Jon Flaugher, Meg Toohey, and Whynot Jansveld, plus a horn section from New Orleans.
Come see and hear the true power music has on the body and soul as the Fairfield Theatre Company welcomes The Weepies to perform for the first time in more than five years. This tour supports the new masterpiece album that contains 14 original tracks, plus covers of Tom Petty's "Learning to Fly" and a version of Irish balladeer Mark Geary's "Volunteer."
Audiences should act quickly as the Fairfield Theatre Company presents two brilliant tunesmiths in one unforgettable evening as they welcome Grammy award-winning singers, Shawn Colvin and Marc Cohn, at 8 p.m. on Friday, June 26th to the Norwalk Town Hall.
Having sold out countless shows at StageOne during the past few years, these two songwriters have been receiving accolades for decades for their songwriting talent.
As a storyteller, Colvin is both keen and warm-hearted, leavening even the toughest tales with tenderness, empathy and a searing sense of humor. Her spellbinding songs are slow-release works of craft and catharsis told through clever lyrics, polished phrases and delicious sarcasm.
In an era when female singer-songwriters are ever more ubiquitous, Colvin stands out as a singular and enduring talent. In the 22 years since the release of her debut album, Colvin has won three Grammy Awards, released 10 albums, maintained a nearly non-stop national and international touring schedule, appeared on countless television and radio programs, had her songs featured in major motion pictures and created a remarkable canon of work.
With combined sales of her albums totaling more than 2.5 million copies in the U.S. alone, Colvin continues to maintain a year-round touring schedule. Throughout the years, she has shared the stage with legendary artists such as Jackson Browne, Bonnie Raitt, Bruce Hornsby, Emmylou Harris, Don Henley, Lyle Lovett and, recently, Steve Earle.
Coming in support of her most recent album release, "All Fall Down," her eighth studio album and the first to be produced by her longtime friend and cohort Buddy Miller (Robert Plant, Solomon Burke), Colvin brings a night of classic gems and new hits to the Norwalk Concert Hall. Recorded in Nashville with a group of stellar musicians, the album features performances by Alison Krauss, Emmylou Harris, Jakob Dylan, Bill Frisell, Viktor Krauss, Brian Blade, Stuart Duncan, and Julie Miller and each song is deeply personal to Colvin, who describes "All Fall Down" as "an album about loss but also about redemption and resolution."
And who else better to better accompany Colvin than the legendary singer-songwriter Marc Cohn? He combines the precision of a brilliant tunesmith with the passion of a great soul man. As a natural storyteller, Cohn balances the exuberant with the poignant and is able to distill universal truth out of his often romantic, drawn-from-life tales.
Cohn's career took off during the '90s, with the recording of his critically-acclaimed, self-titled debut disc, yielding classics "Walking In Memphis," "Silver Thunderbird" and "True Companion."
With a brand-new single, "The Coldest Corner In The World," that was featured as the theme song for the feature-length documentary "Tree Man," fans of Cohn's will feel as though they have been transported back in time, as this new song is reminiscent of the sound that turned this songwriter into a legendary Grammy-Award winner.
Mark the calendar with these two incredible nights of music coming to the Norwalk Concert Hall as the Fairfield Theatre Company continues to bring the some of the best music to Fairfield County time and time again.
The Weepies
Date: Thursday, June 25
Doors: 7 p.m.
Show: 8 p.m.
Venue: Norwalk Concert Hall 125 East Ave., Norwalk, CT 06851
Tickets: Advance $28 - $48 Member Discount $5
Buy tickets: Box Office: 203-259-1036 or Buy Online: http://www.fairfieldtheatre.org
Shawn Colvin & Marc Cohn
Date: Friday, June 26
Doors: 7 p.m.
Show: 8 p.m.
Venue: Norwalk Concert Hall 125 East Ave., Norwalk CT 06851
Tickets Advance $35 - $75 Members Discount $5 - $10
Buy Tickets: Box Office 203.259.1036 or Buy Online: http://www.fairfieldtheatre.org