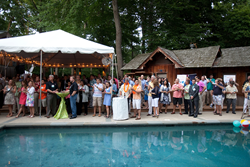 Herndon, Virginia (PRWEB) June 17, 2015
The Northern Virginia Technology Council (NVTC) will host the 14th Annual NVTC Hot Ticket Awards with special guest Governor Terry McAuliffe on June 22 at the home of President & CEO Bobbie Kilberg in McLean, Va. The Hot Ticket Awards celebrate the efforts of companies and individuals in the region's tech community that have exhibited that 'special something' that makes them 'Hot Tickets' - great vision, the ability to implement and deliver, innovative management approach or star-quality charisma.
Click here to see a full list of this year's exciting nominated companies.
DATE:
June 22, 2015
TIME:
6:30 - 9:00 p.m. Hot Ticket Awards Party and Awards Ceremony
LOCATION:
NVTC President & CEO Bobbie Kilberg's residence
Private Location
McLean, VA*
REGISTRATION:
To register as a member of the press, please contact Sarah Jones at 703-904-7878, ext. 207 or email sjones(at)nvtc(dot)org.
The event is free for press, but advanced registration is required. Press credentials are required for entry.
*NVTC will provide the address to registered press in advance of the event.
# # #
The Northern Virginia Technology Council (NVTC) is the membership and trade association for the technology community in Northern Virginia. As the largest technology council in the nation, NVTC serves about 1,000 companies from all sectors of the technology industry, as well as service providers, universities, foreign embassies, nonprofit organizations and governmental agencies. Through its member companies, NVTC represents about 300,000 employees in the region. NVTC is recognized as the nation's leader in providing its technology community with networking and educational events; specialized services and benefits; public policy advocacy; branding of its region as a major global technology center; initiatives in targeted business sectors and in the international, entrepreneurship, workforce and education arenas; the NVTC Foundation, a 501(c)(3) nonprofit charity that supports the NVTC Veterans Employment Initiative and other priorities within Virginia's technology community; the Equal Footing Foundation, a 501(c)(3) nonprofit charity that serves local area youth; and The Entrepreneur Center @NVTC, which mentors new technology entrepreneurs. Visit NVTC at http://www.nvtc.org.