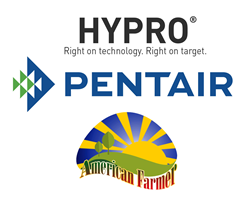 St. Paul, Minn. (PRWEB) June 18, 2015
Pentair announced today that it will be featured in an upcoming episode of American Farmer, airing this Fall on RFD‐TV.
Population growth creates an increased demand for agricultural output. With global food demand expected to increase 75% by the year 2050, American Farmer explores current solutions and strategies to feed this growing world.
Pentair's Hypro brand of spray products help farm equipment manufacturers and growers meet increased demands for production with precise control of pesticides, enabling them to reduce downtime and improve productivity.
In this segment, audiences will learn how recent changes in regulations and new chemical formulations are changing the landscape of spraying. Spray nozzle selection is becoming more important than ever. Improved coverage and uniformity when applying insecticides, herbicides, fungicides, and liquid fertilizers produces higher yields and more efficient operations. Viewers will also learn about Pentair's new ProStop‐E 12 volt actuated valve that provides instantaneous on/off control at the nozzle to decrease misapplication and waste.
"Today's farmers have to juggle a lot between the new spraying regulations, new chemical options and their limited time and resources," says Dave Furlong, platform director for Pentair. "Pentair's Hypro brand of spray products works to understand the grower first and then educate them on innovative solutions that address their needs."
"Hypro has simplified spray nozzle selection by recommending the best nozzle based on the specific chemical being applied," said Charlie Cowan, producer for American Farmer.
About Hypro & Pentair PLC:
Hypro is a leading provider of the highest quality fluid handling products, systems and accessories. Pentair's Hypro line of products includes roller, centrifugal, diaphragm, piston, and plunger pumps, as well as spray nozzles and accessories. Hypro is manufactured in Saint Paul, Minnesota. For more information on Hypro, visit: http://www.hyprospraytips.com
Pentair plc (http://www.pentair.com) delivers industry‐leading products, services, and solutions for its customers' diverse needs in water and other fluids, thermal management, and equipment protection. With 2014 revenues of $7.0 billion, Pentair employs approximately 30,000 people worldwide. For more information, visit: http://www.pentair.com.
About American Farmer:
American Farmer is a breakthrough program on a mission to showcase the latest advancements in agriculture and farming. From seed to harvest, livestock and more, our producers have traveled the country covering the people, places and issues impacting all areas of farm country.
American Farmer airs Tuesdays at 8:30am ET on RFD‐TV. Check your local listing for show times.
For more information visit: http://www.AmericanFarmerTV.com or call Charlie Cowan at: (866) 496‐4065 x 875 or via email at: Charlie@AmericanFarmerTV.com.