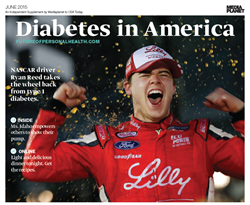 Diabetes isn't an easy disease to live with by any means, but it's not a death sentence, either.
New York, NY (PRWEB) June 19, 2015
June 19th, 2015—Mediaplanet today announces distribution of its fourth cross-platform edition of "Diabetes In America," educating and connecting readers to the causes, treatments and coping resources vital to those living with diabetes every day and creating hope and inspiration the community. Of the 29 million people in the United States living with some sort of diabetes, 8.1 million are undiagnosed. It's safe to say that everyone knows someone affected by this disease, making it a personal fight for many.
The print component of "Diabetes In America" is distributed within this weekend's edition of USA Today in New York, North/Central Florida, Philadelphia, Nashville, Boston, Denver, Pittsburgh/Cleveland, St. Louis and Minneapolis, with a circulation of approximately 450,000 copies and an estimated readership of 1.3 million. The digital component is distributed nationally, through a vast social media strategy, and across a network of top news sites and partner outlets. To explore the digital version of the campaign click here.
In an exclusive interview with diabetes awareness advocate Ryan Reed readers are urged to not be discouraged by this disease and to figure out the best management plan that will allow them to live their dreams. Reed emphasizes, "Diabetes isn't an easy disease to live with by any means, but it's not a death sentence, either."
This campaign was made possible with the support of Ryan Reed, Sierra Sandison, American Association of Diabetes Educators, Dexcom, Tandem, Diabetes Research Institute Foundation, Defeat Diabetes Foundation, Diabetic Living, Healogics, MySugr, Orpyx, ARKRAY USA and many more.
About Mediaplanet
Mediaplanet is the leading independent publisher of content-marketing campaigns covering a variety of topics and industries. We turn consumer interest into action by providing readers with motivational editorial, pairing it with relevant advertisers and distributing it within top newspapers and online platforms around the world.
Press Contact:
Harika Manne
Harika.manne@mediaplanet.com
646-755-7951