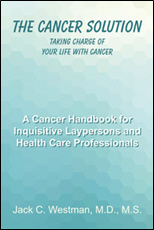 Everyone Needs to Learn about Cancer
Madison, Wisconsin (PRWEB) June 19, 2015
The Blueink Review points out that, while not an oncologist, Dr. Westman is a professor emeritus of psychiatry at the University of Wisconsin School of Medicine and Public Health and has written 12 professional and lay books. After his wife Nancy's 34-year battle with the disease, he set out to research the most current information regarding what really works in cancer prevention and treatment. The resulting book The Cancer Solution: Taking Charge of Your Life with Cancer is highly educational, yet written in a style that engages the reader rather than obfuscates as other books sometimes do.
The book offers a broad overview of various forms of cancer and is direct in discussing the pros and cons of conventional surgeries, chemotherapy and radiation in cancer treatment. It encourages patients and caregivers to take charge of medical record details and to incorporate into their lives exercise, specific dietary changes and nutritional therapies shown to prevent cancer and reverse its growth. For example, the author favors a carbohydrate-restricted diet that includes cruciferous vegetables. He also recommends the antioxidant ubiquinol and supplements that increase cellular oxygen, both of which can improve cells' metabolic functions.
Westman makes clear his disappointment with the so-called war on cancer, which he believes spends far too much money and time on killing constantly changing cancer cells while giving short shrift to preventing and stopping the formation of their formation through the process of neoplasia. His encouraging, skillfully written and surprisingly riveting guide instead shines a bright light on what can be done right this minute to start stemming the ravages of cancer. It is not just hopeful, but highly encouraging and a must-read book for all, even those still unaffected by a cancer diagnosis.