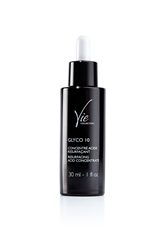 ...the at-home resurfacing peel for a "new skin" effect.
Saint-Malo, France (PRWEB) June 19, 2015
This peel is available in select spas and lespausa.com.
Vie Collection reasserts its medi-exclusive expertise with Glyco 10 Resurfacing Acid Concentrate, the at-home resurfacing peel for a "new skin" effect. Formulated with an ideal concentration of 10% glycolic acid, this peel gently but effectively stimulates cellular renewal for a controlled, progressive resurfacing action without discomfort. Complementary ingredient pyrrolidone carboxylic acid, an acid naturally occurring in the body but lost with age, intensely moisturizes the skin, helping to retain optimal hydration at the heart of the skin for maintained softness and suppleness. Glyco 10 Resurfacing Acid Concentrate is fragrance free and has a serum-like gel consistency which is readily absorbed by the skin for easy application before a regular skin care cream. It may be used alone for instant smoothing effects and progressive resurfacing, or as a preparatory solution before professional peel treatments. Day after day, skin texture is refined, pores are tightened and the complexion appears fresher, smoother and brighter.
Directions for use: Apply one or two drops to perfectly cleansed face and neck before usual care cream. Apply morning or evening, one to three times a week. Avoid contact with the eyes. In case of contact, rinse immediately and thoroughly with water. Sunburn alert: This product contains an AHA that may increase the skin's sensitivity to the sun and particularly the possibility of sunburn. Use a sunscreen, wear protective clothing and limit sun exposure while using this product and for one week afterwards. If irritation persists, discontinue use and consult a doctor. Tested under dermatological control. Not suitable for sensitive skin.
Glyco 10 Resurfacing Acid Concentrate...................................30 ml, suggested retail price $107.50
Key ingredients:

Glycolic Acid - the smallest, most powerful AHA molecule, able to easily penetrate the skin for effective stimulation of cellular activity. Triggers desquamation of the cells of the upper layer of the epidermis and stimulates collagen and elastin production for accelerated skin cell renewal.
Pyrrolidone Carboxylic Acid - a moisturizer naturally found in the body but lost with age. Helps retain moisture in the heart of the skin for ultimate softness and suppleness.
Impressive results:
From the First Application
Optimum Tolerance
The product does not provoke discomfort: 95%*
Skin does not feel tight: 91%*
Immediate Effectiveness
The complexion is fresher: 87%*
Skin is smoother: 81%*
In One Month:
Exfoliates
Skin is cleansed: 73%**
Brightens
The complexion is brighter: 83%**
Smoothes-Refines-Evens
Skin is smoothed: 96%*
Skin texture is refined, pores are tightened: 82%**
Regenerates
The appearance and quality of the skin are improved: 77%**
*Satisfaction test conducted on 22 women, 30 minutes after the first application. ** Satisfaction test conducted on 22 women after 2 to 3 applications per week for 28 days. For professional use only.
Vie Collection at a glance:
As a cosmeceutical expert in the spa industry, Vie Collection is a high performance, high-end skin care line focused on bridging the gap between traditional cosmetics and esthetic medicine. We are one of few spa brands with our own laboratory which allows us to always be on the cutting-edge of scientific progress in cosmetics. We offer in-spa solutions for a spa-savvy clientele that seek medical results but prefer the use of topical products. Vie Collection has targeted, non-invasive and clinically proven alternatives and complements to the top five cosmetic medicine procedures available today.
With the partnership of a prestigious French esthetic doctor, Vie Collection brings expertise, authenticity and real results in the form of expert formulations and treatments, from the finest ingredients.