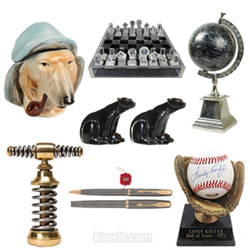 (PRWEB) June 18, 2015
Kovels.com suggests skipping the tie this year and buying Dad something with vintage style. Head to a local antiques mall or flea market to find an antique or collectible that is inspired by his job, hobby or interest. Here are Kovels' Top 7 gift ideas to get you started.
1. Humidor or tobacco jar. Does Dad enjoy an occasional pipe or cigar? Smoking accessories from vintage pipes and humidors to cigar cutters and tobacco tins are collected. A figural dog chewing a pipe tobacco jar auctioned for $60 in Pennsylvania. It could also hold matches, business cards or extra change.
2. Bookends. Where does Dad keep all those books he reads? Bookends are at home in any room. A pair of polar bear bookends, made by the Rookwood Pottery in 1948, sold at a Cincinnati auction. The bid was $531.
3. Corkscrew. Does Dad enjoy a bottle of good wine? Handsome accessories from trolleys and cradles to coasters and corkscrews are popular. A steel and brass corkscrew with a spring design and an industrial vibe cost $115 in an online auction. It's 5 inches high and was made about 1920.
4. Vintage pen. Help Dad dash off a card or journal entry in style with classic writing instruments. The balance and design of a vintage Parker fountain pen provides creative inspiration. A Parker Sonnet Ciselé set, a fountain pen and ballpoint pen, sterling silver with gold trim, was only $270 at an Ohio auction. And the set looks good on a desk.
5. Chess set. For a Dad with an itch for old-school gaming, strategy board games and vintage poker sets are interesting display pieces and fun to use. A modernist chess set with Lucite pieces on a steel and black metal board sold for $600 at a Florida auction.
6. Autographed baseball. For the father who never misses a game, give him a piece of sports history like an autographed picture, card or ball. He'll like a Sandy Koufax autographed ball in a plastic and metal glove holder. One sold in Delaware with a certificate of authenticity for $201.
7. Globe. Where in the world has Dad been? And where might he like to go? Where are the kids traveling? And where did that news story take place? Just check the globe. A metal globe with silver patina, 18 inches high by 6 inches wide, went for $150 at a New York auction. And it imparts the message he means the world to you.
Check local flea markets, antiques shops and antiques malls to find other collectible, pertinent, and different gifts with vintage flair.
Terry Kovel is America's foremost authority on antiques and collectibles. She is the well-known columnist and author of more than 100 books on antiques and collecting. With her daughter, Kim Kovel, she co-authors the best-selling annual "Kovels' Antiques and Collectibles Price Guide." The 2015 edition is now available in bookstores and online. They will discuss antiques and collectibles topics with accredited media. Photographs are available. Contact pr(at)kovels(dot)com.
About Kovels.com
Kovels.com, created by Terry Kovel and Kim Kovel, provides collectors and researchers with up-to-date and accurate information on antiques and collectibles. The company was founded in 1953 by Terry Kovel and her late husband, Ralph. Since then, Kovels' Antiques has written some of America's most popular books and articles about antiques, including the best-selling "Kovels' Antiques and Collectibles Price Guide," now in its 47th edition. The website, Kovels.com, online since 1998, offers more than 1 million free prices, and includes a free weekly email, "Kovels Komments." It gives readers a bird's-eye view of the market through the latest news, auction reports, a Marks Dictionary, readers' questions and answers and much more.
Contact Information:
Liz Lillis
216.752.2252
Pr(at)kovels(dot)com