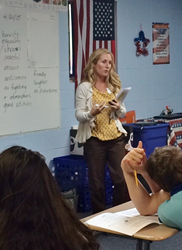 The positive message delivered by the Career Training Concepts RESPECT presentation is already having a big impact on the morale of our school
Tulsa, OK (PRWEB) June 18, 2015
Dove Science Academy recently participated in piloting a new anti-bullying presentation tailored to meet the unique needs of middle school students, parents and educators. All of Dove Science Academy's 6th, 7th and 8th grade middle school students took part in the interactive, classroom-based anti-bullying exercise, which included high levels of critical thinking and cooperative engagement.
RESPECT for Everyone™ ("RESPECT") is a bullying prevention and character building classroom presentation and set of student, teacher, and parent resources designed specifically for today's middle school environment. RESPECT focuses on conveying the positive messages of anti-bullying, respectful personal behavior, and active intervention to middle school students, and draws upon Helping Everyone Achieve Respect ("H.E.A.R."), a proven and similarly designed anti-bullying presentation delivered to more than 300,000 high school students in 42 states by members of the National Guard.
RESPECT and H.E.A.R. have been created by recognized experts at Harvard Graduate School of Education, the University of Nebraska-Lincoln, and Career Training Concepts, Inc. (CTC), which conducted the individual classroom presentations at Dove Science Academy.
"The positive message delivered by the Career Training Concepts RESPECT presentation is already having a big impact on the morale of our school," said Meshelle Barnhart, a middle school teacher at Dove Science Academy. Another teacher, Richard E. Duncan, singled out the passion instilled in the RESPECT classroom presentation and the timeliness of the company's anti-bullying initiative. "Passionate people can help solve impossible problems," said Mr. Duncan. "Your passion to stop kids from being bullied is as much needed now as it has ever been."
According to Amy M. Smith, Ph.D., Director of Educational Programs at CTC, who personally delivered the pilot presentations to Dove Science Academy students, there is an epidemic of bullying affecting every aspect of our lives. "Bullying occurs at every age level and in every social environment," noted Dr. Smith, "but experts agree that bullying is most prevalent in our schools, particularly our middle schools and high schools. According to the Centers for Disease Control and Prevention, 30% of U.S. students are involved in bullying on a regular basis as victim, bully or both."
(more)
About H.E.A.R. and RESPECT
Both H.E.A.R. and RESPECT consist of a 50-minute interactive anti-bullying classroom presentation, 16-page workbook, training manual, PowerPoint slides, commitment banner, website, teacher and parent resources, and student survey. The presentations are designed to inform and educate today's middle school and high school students on what constitutes this type of inappropriate behavior, its consequences, and how they can help minimize bullying in their own lives and in their school environment.
> H.E.A.R. is delivered to high school students at no cost to schools by members of the National Guard, which sponsors the cost of all materials and Guard member training.
> RESPECT is delivered by trained CTC personnel, and requires that schools secure their own funding through local or national sponsorship by private corporations or other supporting entities.
> Both presentations draw upon CTC's decades of experience developing and delivering education programs, including the Career Direction high school guidance program to more than five million students.
A Call to Action
The RESPECT middle school anti-bullying presentation and support materials have been developed, and a website and mobile app are in the works. CTC is actively soliciting partners willing to mirror the National Guard's commitment to the H.E.A.R. anti-bullying engagement for high school students by sponsoring RESPECT on a local school, district, regional or national level. In short, the company is seeking the active participation and financial commitment of private enterprise to help stand up against bullying in our middle schools by underwriting the cost of materials and classroom instruction.
How You Can Help
The opportunity to help end bullying in our nation's schools presents a unique and powerful opportunity for corporate sponsors or others in the local community interested in making a meaningful commitment to combatting bullying. For more information about how your company or organization can begin effecting change where it matters most – in the daily lives of our youth – please visit http://www.project-hear.us.
About Career Training Concepts, Inc.
Career Training Concepts, Inc. is a veteran-owned small business with over 38 years of experience in providing training, publications and personnel services solutions to meet specific customer needs. The company has been recognized as one of INC Magazine's "Fastest Growing Companies" on multiple occasions, bringing a team of corporate staff and trained instructors with over 500 combined years of professional experience. For more information, please visit http://www.careertrainingconcepts.com.
Media and Sponsorship Contact:
Elim Almedom
ealmedom(at)careertrain(dot)com
404-933-1813
To Schedule a Presentation:
Amy M. Smith, Ph.D.
Cell: 470-258-0404
Office: 678-405-5670
AmySmith(at)careertrain(dot)com