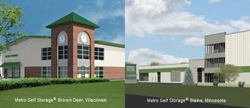 Lake Forest, Illinos (PRWEB) June 22, 2015
Metro Storage LLC today announced the opening of two new state of the art storage facilities in Brown Deer, Wisconsin and Blaine, Minnesota. Both these stores are conversions of existing properties into state of the art self storage facilities.
One of the new stores, formerly a liquor distribution center, is located at 4059 West Bradley Road in the Milwaukee suburb of Brown Deer, and is Metro's re-entry into the Milwaukee market. The converted building consists of 58,000 RSF of climate controlled storage, featuring a drive thru for vehicles and interior loading and unloading. In addition, three new buildings were constructed on the site, adding an additional 21,000 RSF of traditional drive-up, non-climate controlled storage. In total, the new store will contain 647 storage units and features electronic gated keypad entry and security cameras throughout the property.
The second store, a former auto dealership located at 9992 Baltimore Street NE in the Minneapolis suburb of Blaine, Minnesota, is a 627 unit, multi story building with 75,000 RSF of predominately climate controlled self storage. Features of this store include a drive thru which will connect the renovated building to a newly constructed building, a covered loading and unloading area, and industry leading security.
"In addition to the acquisition of established storage stores and ground up development of new facilities, the conversion of buildings into self storage facilities is a key part of Metro's growth strategy." said Metro Storage LLC Chairman Matt Nagel.
Metro previously opened its first converted store in Deerfield, Illinois in November of 2014 and has two others currently under construction in Northbrook, Illinois, and Springfield, New Jersey with several others in the acquisition pipeline.
"Our Acquisitions team and Construction Management did an outstanding job with these two properties." said Blair Nagel, CEO of Metro Storage LLC, "It really takes a concerted effort by our entire team to make these conversions happen. Acquisitions, Construction, Operations, Finance, and HR all work together throughout the entire process to get the store up and running."
About Metro Storage LLC
Metro Storage LLC is a privately owned, fully integrated, international self-storage operating company specializing in the development, construction, acquisition, and management of self-storage facilities in the USA and Brazil. Metro operates under the trademark Metro Self Storage in the US, being one of the top 10 largest owner/operators of self-storage facilities in the United States with over 100 stores covering 12 states. Metro operates in Brazil under the trade name MetroFit which is one of the fastest growing self-storage companies in Brazil. More information about the firm is available at http://www.metrostoragecorporate.com