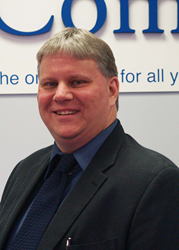 We have clients that know what they need to do, but need some help determining the best way to get there. That's where 30-plus years of experience and expertise come into play.
CHICAGO (PRWEB) June 23, 2015
Ace Computers, one of the leading custom computer builders and custom HPC specialists in the U.S., released 2 major case studies this week that highlight the problem-solving utility of their Powerworks family of servers at Andrews Air Force Base and the University of Colorado at Boulder (CU Boulder).
As the home of Air Force One, Andrews Air Force Base is among the most important and technologically advanced military bases in the U.S. Recently, they worked with Ace Computers to reverse and ultimately solve worsening data transmission issues.
Andrews' TSgt. Taronza Pelham and his crew needed to improve the stability of the APC Microsoft Exchange hosting environment, which would require additional servers and additional internal storage. "Our decision to go with Ace Computers was based on much more than cost," he said. "We considered such factors as time for install, support for install, warranty information, and any past issues."
Ace Computers' solution included two different iterations of their Powerworks family of servers: exchange servers and domain controller servers. Ace Computers Powerworks enterprise class custom servers incorporate the smartest technology and are configured to precise specifications.
Vice President Marc Fertik said, "We focused on RAID performance as the critical criteria, and made sure to over engineer that aspect of the solution." He added that they customized the hardware for the actual software configuration that Air Force users intended to run.
As soon as the systems were up and running, data issues were resolved and Air Force personnel noticed that performance requirements were exceeded by as much as 40 percent. "People from Ace were actually on the ground helping us," Pelham said. "They walked us through everything."
Ace Computers' CEO John Samborski said, "We have clients that know what they need to do, but need some help determining the best way to get there. That's where 30-plus years of experience and expertise come into play."
CU Boulder did know exactly what they needed in terms of configuration; they just needed quality components, a competitive price, a provider they could trust, and some software advice. When it came time to expand their original Powerworks cluster, they didn't hesitate to contact Ace Computers again. During the consultation, Ace Computers' Director of Technology Dan Arendt also let CU Boulder know about a better cluster management utility that was available.
Daven Henze, associate professor of mechanical engineering at CU Boulder said, "When compared with the big names, their price was very competitive, in fact it was excellent. I haven't noticed any compromise in performance. If you look inside, you can see that the components you are getting are the same as everyone else's." After the install and the software update, Henze noticed a performance boost of about 10%--very significant for a research facility.
###
Leading custom computer builder and HPC specialist, Ace Computers currently holds the following contracts: SEWP V, GSA, NITCP, DOS (Department of State), WSIPC, PEPPM, State of Wis., State of Ga. The company is a Woman-Owned Small Business custom technology systems manufacturer and reseller for the public sector as well as the commercial sector. Channel partners include Intel, Supermicro, NVIDIA, Mellanox and Samsung among others. It has been an industry leader since 1983. In addition to some of the finest academic institutions in the U.S., long-term clients include the U.S. Department of Energy and the U.S. Department of Defense. In addition to our Greater Chicago headquarters, Ace Computers has locations in New Jersey, Virginia, and Pennsylvania. To contact Ace Computers, call 1-877-223-2667 or 1-847-952-6900 or visit http://www.acecomputers.com/TopProducts.asp
###
For media inquiries, contact Jeanna Van Rensselar at Smart PR Communications;
630-363-8081; jeanna(at)smartprcommunications(dot)com.