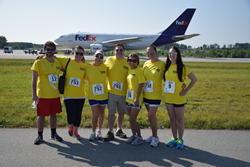 AMG understands the need to support local charities. - Paul Mengert, President of AMG
Greensboro, NC (PRWEB) June 18, 2015
Saturday, June 6, Greensboro's Association Management Group (AMG) was part of the PTI 5K 10K on the Runway at Piedmont Triad International Airport, supporting the fundraiser race event with a financial sponsorship, a race team and 10 bags of groceries. In its sixth year, the race, which hosted 1473 runners, drew a big crowd of participants and sponsors like AMG but, more importantly, it drew a lot of attention to its cause: supporting Second Harvest Food Bank of Northwest NC and its 400 food assistance program partners in their efforts to end hunger through education, outreach and advocacy. The race also benefited Greensboro Urban Ministry and Open Door Ministry, organizations that provide emergency, housing and food assistance to people in need.
This unique race on the runway provided a close-up view of the airport and surrounding area from the airfield. But it provided something more as well, an opportunity for connection and service. "It was a great day of camaraderie and fun," said Ashley Kearnes, Certified Manager of Community Associations with AMG and the company's race team coordinator. "At AMG, we believe it's important to serve, to give back the community you live in. Hunger is always an important need, one that tends to be forgotten except at Christmas time. Team AMG will definitely be back next year."
While the Second Harvest financial donation tally isn't in yet, the race collected an impressive 2173 pounds of food. "We are delighted at the turnout for this year's event," said Airport Authority Chairman Steve Showfety, "And, we are grateful to the community for supporting this worthy cause. We hold this event to give people an opportunity to get to know their local airport from a different perspective, and we are always gratified at the generosity of our sponsors and our participants."
Generosity and support are a part of the corporate culture at AMG, which has assisted Greensboro Urban Ministry over the last several years. "AMG understands the need to support local charities like The Second Harvest Food Bank of Northwest NC, Greensboro Urban Ministry and Open Door Ministries," said Paul Mengert, President of AMG, commercial pilot and PTI Airport Director and Treasurer. "It is sad that there are families without ample food in the Triad. This is a way we can help."
To learn more about Second Harvest Food Bank of Northwest NC, visit http://www.hungernwnc.org. For information about Greensboro Urban Ministry, go to http://greensborourbanministry.org/. To explore Open Door Ministry, see http://www.odm-hp.org/.
About AMG: AMG is a professional community association management company dedicated to building effective community associations. AMG guides and assists executive boards to help protect the association's interests, enhance the lives of community members and improve the property values in the community. With offices throughout the Carolinas in Greensboro, Winston-Salem, Charlotte and Raleigh NC, and Greenville and Aiken, SC, AMG is a knowledgeable partner in enforcing community governing documents with a proven set of processes and techniques, and supporting communities with a broad range of services which can be tailored to individual community needs. Association Management Group, Inc. is a locally Accredited Business by the BBB and is a nationally Accredited Association Management Company (AAMC) by the Community Associations Institute. For more about AMG, visit http://www.amgworld.com.