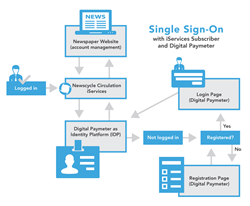 Bloomington, MN (PRWEB) June 18, 2015
Newscycle Solutions, the leading provider of software and services for the global news media industry, is pleased to announce a new Single Sign-On (SSO) application for the Newscycle Circulation product line.
Developed in partnership with Syncronex, Newscycle's SSO solution eliminates the need for media company customers to have – and remember – multiple logins and passwords. Customer satisfaction improves as a result of the streamlined SSO user interface experience. In addition, SSO is proven to increase a site's compliance and security capabilities.
SSO also offers cost-saving benefits. Analysts like Gartner and Forrester report that password reset requests represent more than half of all calls to company help desks, and SSO helps to reduce the time, expense and frustration involved in managing such requests.
With Newscycle's SSO solution, Digital Paymeter is used as the Identity Provider (IDP), supporting single sign-on management and authentication for the Newscycle Circulation iServices Subscriber application.
Using Digital Paymeter as the IDP, Newscycle SSO also supports social media integration. Subscribers can login to media company sites with their existing Facebook credentials. If access to other social logins is needed, Newscycle's SSO can also integrate with third-party Identity Providers such as Gigya and Janrain, as well as most major industry content management systems.
SSO is available in the Newscycle Circulation 2014.1.5 release and higher. Interested customers must license the Newscycle SSO application programming interface (API.) For more information about SSO with Digital Paymeter, please visit newscycle.com/sso or write to info@newscycle.com.
About Newscycle Solutions
Newscycle Solutions, which was formed by the combination of DTI, SAXOTECH, Atex AdBase and MediaSpan, delivers the most complete range of software solutions for the global news media industry, including news content management, advertising, circulation, audience, and analytics. Newscycle is a trusted technology partner serving more than 750 media companies with 8,000 properties across more than 30 countries on six continents. The company is headquartered in Bloomington, MN and has U.S. offices in Florida, Michigan and Utah; with international offices in Canada, Denmark, Germany, Malaysia, Norway, Sweden, and the United Kingdom. For more information, go to http://www.newscycle.com.
About Syncronex
Since 1997, Syncronex has helped media companies increase profitability. Whether it's optimizing print operations, transitioning print subscribers to digital subscribers or establishing new digital products and services, Syncronex delivers efficient print and effective digital solutions for over 100 media companies worldwide. Syncronex is located in Issaquah, WA and Charlottesville, VA. For more information about Syncronex, visit http://www.syncronex.com or call 877-796-2766.
Media Contact:
Lisa Speth
Newscycle Solutions
Marketing Communications Manager
lisa(dot)speth(at)newscycle(dot)com
+1(801) 853-5068