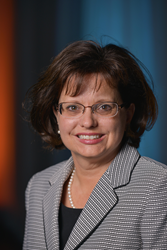 Wheaton Illinois (PRWEB) June 19, 2015
Speech Language Pathologist, Susan Brady, M.S., CCC-SLP, BCS-S, has been named Marianjoy Director of Research and Outcomes.
Susan joined the Marianjoy team as an inpatient Speech-Language Pathologist in November 1996. In 2001, she assumed research responsibilities as Clinical Research Scientist and was promoted to the role of Clinical Educator in 2008.
Named a 2014 Fellow of the American Speech and Hearing Association (ASHA), Susan was recognized for her groundbreaking research and applied work in the field of dysphagia (ie, swallowing).
During her tenure at Marianjoy, Susan has published over 30 peer-reviewed manuscripts; presented research findings nationally and internationally; and served as a leader for the development of a number of applied clinical protocols which help patients regain their ability to swallow following an illness, accident, or injury. She is part of an interdisciplinary team which includes board-certified physiatrists, otolaryngologists, and speech language pathologists.
Marianjoy Rehabilitation Hospital is a nonprofit teaching hospital in Wheaton, Illinois, dedicated to the delivery of Physical Medicine and Rehabilitation programs, including stroke, neuromuscular, orthopedic, brain injury, spinal cord injury, and pediatrics. Founded in 1972, Marianjoy Rehabilitation Hospital maintains an extensive network of inpatient, subacute, and outpatient sites, as well as physician clinics throughout the Chicago area. Marianjoy is a member of Wheaton Franciscan Healthcare.