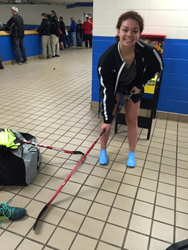 The players are quickly understanding and feeling the benefits.
Champlin, MN (PRWEB) June 18, 2015
The creative entrepreneur behind a groundbreaking foot cover announced two significant marketing developments today in bringing this innovative product to a crucial customer demographic.
Ron Wright's JellyFeet365, a protective synthetic layer for feet that guards against germs in a comfortable and reusable slip-on, is taking a giant step forward in enhancing its appeal to America's women by embracing the support of international hockey standout Winny Brodt Brown.
"When a partnership with this product came up, I realized here was something that answers what's been on my mind all these years and during the thousands of times I've walked around in locker rooms in rinks all around the world," said Brodt Brown, a native of hockey-crazed Minnesota who has skated many times for Team USA and starred for the powerhouse University of Minnesota program.
Having been won over, Brodt Brown is introducing JellyFeet365 to the elite high school skaters participating in her Os Prospects Camp throughout summer in Blaine, Minn.
"The players are quickly understanding and feeling the benefits," Brodt Brown said. "I expect JellyFeet365 to practically be standard equipment for hockey players and likely in other sports as well as the word spreads."
Wright, a onetime track athlete at the University of Minnesota Duluth who since he was a kid always concerned himself about having healthy feet, said JellyFeet365 is committed to making inroads with women as purchasers.
"We've specifically targeted the female demographic, especially the mother and the young professional," Wright said. "We've seen a shift in who directs a household's purchasing power. Women are especially focused on preserving health and beauty and are very much out front when it comes to raising the family. We know women can always use one less thing to worry about when you are out there being a mom. Your kids' feet will be protected."
Wright explains that he sought out Brodt Brown, who plays professionally when not running her camps, because he sees hockey as a perfect testing ground for JellyFeet365 and women as the perfect testers.
"Whether it's pregame while warming up off-ice and needing to prevent moisture from seeping in, or while walking around in the lockerroom, the young skaters under Winny's direction are experiencing the benefit," Wright said. "After practices or games, you want to make sure your feet are protected while you are cleaning yourself and taking off your equipment. The last thing you want to worry about is what's on the floor."
Once the hockey camps wind up in the North Star State, Wright will take his passion for the reusable foot protection product to the Lone Star State, where the eWomen Network is hosting the 15th Annual International Conference & Business Expo.
"This impressive gathering will take us to that executive, that entrepreneur and business owner who happens to be female," Wright said of the opportunity in Dallas from Aug. 6 to 9.
"This event also will take us more to a national level," Wright continued, "not only to effectively market but to create some sales and drive our brand. We want to be the leader in foot protection. The only way we can do that is to align ourselves with influential people who attend this business expo and others like it around the country."
The foot covers recently debuted online at http://www.jellyfeet365.com/shop in a Smurf blue, as Wright likes to call it. For the fashion-conscious – whether female or male -- he's is adding color options and also will soon expand size choices beyond the wide swath of feet that the current 7.5 to 14 already covers.
About JellyFeet365 and founder/inventor Ron Wright
JellyFeet365 is based in the Minneapolis suburb of Champlin, Minn., and is dedicated to the promotion of keeping the human foot as healthy as possible no matter the surface that may be encountered. Its patent-pending foot cover design offers consumers a comfortable, effective and attractive layer of protection that can be found nowhere else in the world. Founder Ron Wright began brainstorming his invention in 2001 and 2002 before graduating from the University of Minnesota Duluth. He continued putting the pieces together as he worked for various major corporations and then set off on his own to make this product widely available. For more information, visit http://www.jellyfeet365.com, https://www.facebook.com/jellyfeet365, or call 1-844-411-FEET (3338).
# # #