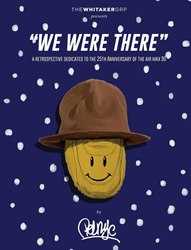 We are pleased to debut this special sneaker art collective at the Ward-Nasse gallery. See you there. says PEL
New York City, NY (PRWEB) June 18, 2015
To celebrate the 25th Anniversary of the Nike Air Max 90, PELNYC (@pelnyc) debuts the art collective of 25 unique paintings that takes you on a twenty-five year journey back in time. On June 23rd at the Ward-Nasse Gallery in New York City, PELNYC will present the sneaker art collective through which the Air Max 90 silhouette is showcased and transformed into art that reflects some of our most memorable milestones.
Join PEL for an artist talk and to view the once-in-a-lifetime sneaker art collective commemorating two and a half decades of pop culture, entertainment, trends and events of important historical record like 9/11, The Simpsons, Tupac + Biggie, Pharrell and more.
The sneaker art show commences with an opening reception, Artist Talk and Book Signing on Tuesday, June 23rd, 6:00pm – 9:00pm at the Ward-Nasse Gallery at 178 Prince Street, New York, NY 10012.
Don't miss the opening day reception and your chance to speak with PEL and obtain an artist signed "We Were There" sneaker Art Book while they last! The art show will continue for a full week June 23 – June 30, 2015. The custom "We Were There" Art Book is on sale now with limited supply at pelnyc.com. Additional news and information on the collective, the Art Show and the custom art book can be found at http://www.pelnyc.com.
PELNYC Releases the "We Were There" custom Art Book in NYC
ABOUT PEL of PELNYC
PEL is decorated military veteran turned entrepreneur and creative director focusing on art, fashion and graphic design. Raised in queens, New York, he obtained his bachelor's degree in engineering. After turning his career to his passion in art and fashion, PEL held various strategic director positions for apparel firms as well as consulted as a logo designer for New York City public schools. Today PEL consults and directs an outstanding team through his founded companies, providing art, design, fashion and brand development expertise and support. His roster of clients' brands include Uniqlo, 10 Deep, Joseph Abboud, Azzuré, Atiziano, UMG, RP55, Wax Poetics, Mighty Healthy, Entree, Reebok, Fila, Diamond Supply, Talkspace, Air Jordan and Nike.
PEL is frequently sought-after for his fine art and satirical cartoons. He has participated in Art Basel in Miami and contributes a full-page monthly satirical cartoon to PENTHOUSE magazine which is based on his daily Instagram cartoons. Follow Pel on Instagram @pelnyc. For more on PEL, his work and his services, please visit http://www.pelnyc.com