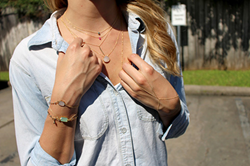 "Whether our Peace, Love & Decorating customer is looking for layering pieces or the perfect statement piece, LeMel Designs offers yet another unique jewelry option for our specialty boutique."-Katie-Beth Payne, Fashion Accessories Buyer
(PRWEB) June 22, 2015
Peace, Love & Decorating, a leader in home decor and women's jewelry, offers some of the most sought after brands of handcrafted jewelry available in boutique online retail . As part of its continuing expansion in the women's jewelry segment, Peace, Love & Decorating adds LeMel Designs to its jewelry offerings.
Peace, Love & Decorating Fashion Accessories Buyer, Katie-Beth Payne, was drawn to the expert craftsmanship and exquisite stones that are the hallmark of LeMel Designs jewelry. Founded by sisters, Melanie and Jennifer Pritchett, LeMel Designs' necklaces, bracelets, rings and earrings, handcraft semi-precious and precious stones such as moonstone, druzy, diamond, turquoise, topaz, sapphire, and tanzanite.
"LeMel Designs has a brand story that really speaks to me. Women working together to make beautifully designed handcrafted jewelry pieces. Whether our Peace, Love & Decorating customer is looking for layering pieces or the perfect statement piece, LeMel Designs offers yet another unique jewelry option for our specialty boutique customer," said Payne.
Payne is especially excited about the LeMel Designs jewelry featuring druzy stones and nature-inspired elements such as antler tips, bamboo and shark teeth. LeMel Designs joins other top Peace, Love & Decorating women's jewelry brands such as Ronda Smith Designs, Lenny & Eva and Shannon Koszyk to name a few.
Peace, Love & Decorating, founded by Jennifer Cook and Jana Contardi, specializes in top boutique brands of women's jewelry, home décor, designer lighting, holiday decor, and special occasion gifts. Peace, Love & Decorating is online at http://www.peaceloveanddecorating.com and has a retail brick-and-mortar store located thirty minutes north of Atlanta at 3129 Main Street, Duluth, GA. LeMel Designs jewelry is now available at Peace, Love & Decorating online and in its retail store.