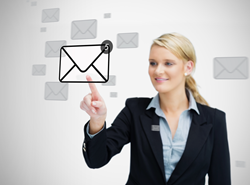 The bottom line, ultimately, is the top line- how much gross am I getting from my email marketing? With Email Campaigns, our dealers can answer that very important question.
Davenport, Iowa (PRWEB) June 19, 2015
Fresh off of winning its fourth straight Dealers' Choice Award for CRM excellence, ProMax Unlimited made another big addition to its software suite with the release of Email Campaigns. ProMax Unlimited, an industry-leading full front end solution, is used in over 2,000 automotive dealerships nationwide. The release of this new email marketing tool is just the latest addition ProMax has made to its core product.
"The pinnacle of our year-long effort into completely reworking our email support in ProMax has now been achieved with the release of Email Campaigns" said ProMax CTO Darian Miller. In addition to robust reporting of all the traditional email marketing metrics like Click-Through Rate, Open Rate, and Bounce Rate, ProMax Email Campaigns also boast advanced drilldown reporting as well as A/B testing. "We went above and beyond our initial expectations with this release by offering features that most others don't" continued Miller. "The A/B testing in particular is a very powerful tool that most solutions can't match, and all of the reporting is available from any device, anywhere."
The ability to send compelling email messages to customers is essential to any CRM tool. "Email remains the go-to form of communication, and dealerships rely on it to market to their customers" said ProMax COO Shane Born. ProMax Email Campaigns give users the ability to create professional-looking campaigns with ease and also comes with a selection of effective email templates that are designed to display equally well on desktop computers as well as mobile phones and devices. "The responsive templates we offer are a big plus for dealers" said Born.
Email marketing is an indispensable tool for dealers, and ProMax Email Campaigns enable users to orchestrate large campaigns with ease. "This is a fantastic addition for our dealers, and it is loaded with bells and whistles" said ProMax CEO John Palmer, "but what makes our Email Campaigns so essential is the ROI reporting. Our dealers can see exactly what is working and what isn't, and how it is affecting sales. All of the features are great but the bottom line, ultimately, is the top line- how much gross am I getting from my email marketing? With Email Campaigns, our dealers can answer that very important question."