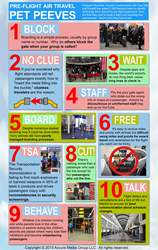 The study clearly shows the challenges frequent flyers face on a regular basis and highlights areas marked for improvement.
New York, NY (PRWEB) June 18, 2015
With more than 100,000 flights taking off daily and nearly 3 billion passengers taking to the air annually, flying has become as commonplace as a train ride. But with more flights and flyers come more issues and annoyances – and oftentimes it's fellow travelers who are stirring up a ruckus. Frequent Business Traveler, along with FlyerTalk, the world's largest online travel community and ExpertFlyer, a leading air travel information tool, asked readers and forum members to rank their most egregious pre-flight air travel pet peeves. Frequent Business Traveler defined "pre-flight" as activities between booking a flight and entering the jet bridge for actual boarding. The survey* was conducted with a random sample of 2,530 adults (average age of 45.2) between April 13 and May 15, 2015.
Overall, it seems that poor behavior, bad manners, and the general lack of courtesy are a common thread among the top list of pet peeves. According to the survey's findings, the number one pet peeve was "Others Blocking Gate when Your Group is Called to Board" followed by Clueless Travelers and Long Lines at Check-In taking third place. Discourteous or uninformed staff, poor communications among airline carriers, and difficulty using award miles also made the list. The entire list of top 10 pet peeves can be seen on the survey's Infographic.
"If I could drive home one point from the results of the Pet Peeves research, it would be to mind one's manners and behave civilly when flying," said Jonathan Spira, editorial director, Frequent Business Traveler magazine, who directed the study. "Long lines and security screening inconsistencies may be inevitable, but human behavior is something we can fix, if not always easily."
*The Survey was designed by Basex Research, a market research firm and division of Accura Media Group, the parent company of Frequent Business Traveler.
"The study clearly shows the challenges frequent flyers face on a regular basis and highlights areas marked for improvement," said Chris Lopinto, title etc. "ExpertFlyer's tools are designed to help alleviate some of those peeves or frustrations, such as helping to find an award ticket or upgrade with less stress or frustration."
About Frequent Business Traveler
Frequent Business Traveler and Frequent Business Traveler Weekly bring must-read business travel tips and insights, news, reviews, and deals to globe-trotting executives in order to ensure seamless, productive, and successful travel.
About FlyerTalk
FlyerTalk features discussions and chat boards that covers the most up-to-date traveler information. An interactive community dedicated to your favorite topic: travel! That's right: all travel, all the time. The FlyerTalk forums are open for business 24 hours, 7 days a week. Even better, all travelers -- from vacation travelers to mileage junkies -- are welcome in the community. Just choose a forum and you can get to the business at hand: conversing about programs, how to make the most of your miles and points, general travel, airports, destination and dining information.
About ExpertFlyer.com
ExpertFlyer.com was conceived and created by an eclectic team consisting of a veteran elite tier frequent flyer, an airline captain and corporate travel manager, and information technology professionals to deliver a 24/7 real time powerful air travel information service. The company provides its subscribers and corporate travel managers alike with a complete, concise and efficient way to access the ever-changing details of worldwide air travel information. For more information, please visit expertflyer.com.
Stuck in the middle seat again? Download the free Seat Alerts app from ExpertFlyer and get the window or aisle seat without hassle or frustration.