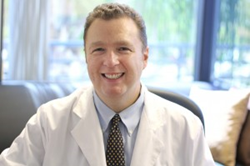 Airsoft guns are more like weapons than toys. These guns carry the potential to cause severe eye injuries so harmful that surgery is often needed. It's a major problem that is going overlooked by most people. - Dr. Tracy
Carlsbad, CA (PRWEB) June 19, 2015
According to a Stanford University Study, the number of children who have sustained injuries from "airsoft" guns has grown more than 500% since 2012. According to the study's co-author Douglas Frederick, "These results demonstrate that air guns can cause severe, yet preventable, eye injury among the pediatric population." San Diego ophthalmologist Dr. Michael Tracy comments on how these toy guns present major dangers to children's eyesight.
"Airsoft guns are more like weapons than toys," said Dr. Tracy. "These guns carry the potential to cause severe eye injuries so harmful that surgery is often needed. It's a major problem that is going overlooked by most people."
Airsoft guns are full-scale replicas of powder guns that use pressurized air to fire 6 mm plastic pellets at speeds that can top 120 meters per second. There are no federal laws regulating non-powder guns and only 22 U.S. states regulate the transfer, possession, and use of non-powder guns. In a majority of states, minors are allowed to purchase and possess non-powder guns, and only four states define some or all non-powder guns as firearms, while only three classify non-powder guns as dangerous weapons.
"The lack of regulations means that not only are people of all ages using airsoft guns, but that people of all ages are at risk of being injured," added Dr. Tracy. "Children are the most at risk for being injured."
In some cases, patients who have suffered an injury from an airsoft gun experienced corneal erosion and stromal edema matching the bullet size. Corneal erosion refers to a problem in which the outer layer of the cornea is damaged. Typically corneal erosion is triggered by a single direct injury. Symptoms include blurry vision, excessive tears, redness, and pain. Stromal edema refers to an accumulation of fluid in the corneal stroma, disrupting the normal lamellar structure and causing a loss of transparency. In addition to corneal erosion and stromal edema, some patients developed cataracts. The fact that the majority of these eye issues are occurring in children is particularly worrying.
"When you combine the size of the pellet, the speed at which is travels, and the demographic using airsoft, it's no wonder that children are at such high risk of eye injury. It's a serious problem, but only increased awareness can prevent the damage being done," said Dr. Tracy.
Dr. Michael Tracy is a board-certified ophthalmologist in Carlsbad, CA. He completed his residency training in ophthalmology at the Scheie Eye Institute at the University of Pennsylvania and his fellowship in Corneal and Refractive Surgery at the Bascom Palmer Eye Institute. Dr. Tracy specializes in LASIK and PRK surgery at his private practice at Carlsbad Eye Care.
To contact Carlsbad Eye Care, please visit http://carlsbad-eye-care.com or call (760) 603-9910.