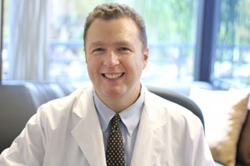 "Nearsightedness does not simply develop overnight. However, the slow progression of the condition may make it more difficult to spot without regular eye exams. - Dr. Michael Tracy
Carlsbad, CA (PRWEB) June 24, 2015
Recent research from the American Academy of Ophthalmology that investigated the link between the use of glasses and education level has shown that half of the population of Europe with a university degree was in fact nearsighted. This finding can be contrasted against the less than a quarter of individuals who quit after high school or secondary school. Dr. Michael Tracy, a Carlsbad ophthalmologist with experience in treatments for nearsightedness, provides insight on both the causes and solutions to nearsightedness.
"Nearsightedness does not simply develop overnight," said Dr. Tracy. "However, the slow progression of the condition may make it more difficult to spot without regular eye exams. Only by doing so can people catch their condition early and reduce the factors causing it."
In a project called the Gutenberg Health Study, 5000 German subjects were given eye exams. Researchers found that individuals with 13 years of education were considerably more myopic than those who did not progress beyond primary school. In addition, more than half of those with a university degree regularly wore glasses compared to less than a quarter of the people who quit after high school or secondary school. Links between eyesight and obtaining a university degree may be founded in time spent indoors reading, which is often a major requirement of universities. Although the exact cause of nearsightedness is unknown, two factors may be primarily responsible for its development: heredity and visual stress. Significant evidence shows that a majority of people who are considered nearsighted have at least one parent who is also nearsighted.
"Everyone should be aware of what individual risk factors affect their eye health on a person to person basis," said Dr. Tracy. "When we watch out for dangers, our eyes can stay healthier much longer."
Although nearsightedness can be inherited, it can also develop over time. Individuals who spend a substantial amount of time indoors, reading, working at a computer, etc. often develop nearsightedness. Spending more years in school requires people to spend more time indoors, in a classroom as well as at home reading study materials. Overall, their findings concluded that as education level increased, so did the prevalence of myopia. The more time spent in school, the more myopic individuals become, with nearsightedness getting worse over time. Genetic markers are in fact much weaker factors when juxtaposed against these findings.
"Nearsightedness is increasing all across the world due to many different factors, including the increased use of computers and mobile devices, which means that more young people are spending more time indoors" said Dr. Tracy. "The more everyone understands about the condition, the better prepared we can all be for its effects."
Dr. Michael Tracy is a board-certified ophthalmologist in Carlsbad, CA. He completed his residency training in ophthalmology at the Scheie Eye Institute at the University of Pennsylvania and his fellowship in Corneal and Refractive Surgery at the Bascom Palmer Eye Institute. Dr. Tracy specializes in LASIK and PRK surgery at his private practice at Carlsbad Eye Care.
To contact Carlsbad Eye Care, please visit http://carlsbad-eye-care.com or call (760) 603-9910.