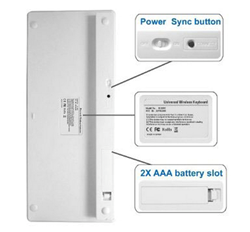 This keyboard is universally compatible with all wireless enabled systems such as iPads, laptop and desktop computers, tablets running iOS, Android and Windows operating systems
Chicago, IL (PRWEB) June 26, 2015
The ultra slim wireless keyboard from Sunrise Hitek combines clean white keys with fine crafted aluminum. It is universally compatible with all wireless enabled systems such as iPad, laptop and desktop computers, tablets running iOS, Android and Windows operating systems. Its ergonomic tilted design reduces wrist strain, and the wireless technology provides a sleek cable-free, clutter-free connection. This keyboard also features a QWERTY layout with dedicated function keys. Compatible with the iPad and all wireless-enabled tablets, laptops, and computers. The slim and compact design is easily stowed and transported in a backpack, messenger bag, or case.
The Universal Wireless Keyboard is super easy and fast to set-up. An auto sleep/wake function conserves battery life. and a dedicated Home button allows one touch access to the iPad's home screen. The product dimensions are: 11.25" x 4.75" x 0.5", and requires 2 x AAA batteries (NOT INCLUDED).
About Sunrise Hitek
Sunrise Hitek's üuber store, formerly known as iGear, is a leading maker of protective gear for Apple's iPad. The brand changed to üuber when the company starting developing cases for other devices, such as the MacBook, Chromebook, and Samsung devices. Sunrise Hitek Group, LLC, owner of the üuber brand, also operates Sunrise Digital, a leading digital printing company based in Chicago. As a G7 Qualified Master Printer, Sunrise is uniquely qualified among protective gear makers to offer a wide array of customization options, ensuring the most consistent and accurate color reproduction. Sunrise is an Inc. 5000 company established in 1988 and employs the most advanced equipment and technology, such as G7-certified HP Indigo and UV flatbed presses, and digital die-cutting, to create best-in-class products. A privately-owned enterprise, the company is based in Chicago and sells products worldwide.