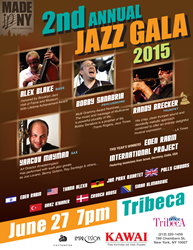 "We especially enjoy the number of students and young people who come to attend, and hope they can pick up some influences or experiences that enrich their outlook and lives after seeing our world class performers."
New York, NY (PRWEB) June 18, 2015
Jazz is increasingly loved among college and high school students, opening their eyes to a style of creative music that celebrates innovation and thinking outside the box. All this and more will be on display June 27th, 2015 when the Second Annual International Jazz Gala comes to the Tribeca Performing Arts Center. The organizers recently announced tickets are available and expect the turnout from music lovers, the arts community and students from across the country to be high.
"We are beyond passionate about the Jazz Gala that shows the international jazz community in its best light," commented Misha Brovkin, founder of Made In New York Jazz Competition. "We especially enjoy the number of students and young people who come to attend, and hope they can pick up some influences or experiences that enrich their outlook and lives after seeing our world class performers."
According to Brovkin, the Jazz Gala features the winners and finalists of an international online jazz competition who are then invited to New York, to perform at the Tribeca Performing Arts Center alongside jazz greats Randy Brecker, Bobby Sanabria, Alex Blake and Art Director of Made In New York Jazz Competition Yaacov Mayman. The experience is unique and exciting as the present and future of jazz perform side by side for an enthusiastic and knowledgeable audience.
Jazz artists from Great Britain, Turkey, Denmark, Bosnia and Herzegovina, USA, Israel, Germany and Chile will all be playing at the event.
A special students ticket rate is available for the reduced price of $40.
For more information be sure to visit http://madeinnyjazz.com.
About the Made in New York Jazz Competition
The Made in New York Jazz Competition is the world's first and fastest growing online jazz competition. Competition entrants upload video performances in as many of the six jazz-genre categories as they wish. Registrants vote for their favorite performances. Finalists are selected through a combination of online votes and the Competition's Board of Members and Judges, which is comprised of highly regarded jazz musicians.