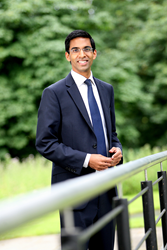 I'm excited to spread PlattForm's technology and expertise to the U.K., enabling our institutions to offer world-class, online degree programs to students around the world. - Rajay Naik
LENEXA, Kan. (PRWEB) June 18, 2015
PlattForm, a full-service partner for higher education institutions worldwide, has announced the addition of Rajay Naik as CEO, Europe.
This comes weeks after the Obama Administration announced a multimillion-dollar grant to colleges and universities to encourage innovative new practices on campuses, understanding that "in an era of rapid change and innovation, [we must] encourage those colleges and universities developing new ways to serve students better." Naik said he is ready to take this concept worldwide.
"The U.S. is calling for universities to revolutionize, and now we have the opportunity to share this inspiration with Britain's universities," Naik said. "I'm excited to spread PlattForm's technology and expertise to the U.K., enabling our institutions to offer world-class, online degree programs to students around the world."
Previously the director of government and external affairs at The Open University (OU) – the U.K.'s largest university and a global leader in online learning – Naik now leads PlattForm's European operations and is based out of its London office. During his time at The OU, the institution has continued its domination of adult education, grown its international partnerships and launched the FutureLearn MOOC platform.
Naik is a major figure in U.K. higher education, joining senior ministerial delegations on behalf of the British government and as a member of the high-level UK-ASEAN Business Council. Before joining The OU, he was a member of the landmark Independent Review of Higher Education, chaired by former BP CEO Lord Browne. As far back as 2006, he co-authored "Learner Voice," which examined how technology would transform education. In May, Naik stepped down after six years as a non-executive director at the Big Lottery Fund where he managed a £1.7 billion per year budget as chairman of U.K. funding. He also recently served on the U.K. Digital Skills Commission and the Department for Business, Innovation & Skills' Education Technology Action Group.
"I am delighted that Rajay has agreed to join us at this exciting time for education and technology in the U.K. and Europe," said PlattForm CEO Steve Fireng. "Rajay brings unparalleled experience and knowledge of the online higher education landscape as we continue to offer innovative solutions to the student population and further empower universities."
For more information, please contact SVP of Marketing Dale Leatherwood at Dale.Leatherwood(at)PlattForm.com or 205.837.4892.
About PlattForm
PlattForm partners with higher education institutions worldwide to launch online programs, grow enrollment, improve learning and optimize careers through a proprietary technology suite that enables higher education leaders to make informed decisions based on holistic data. PlattForm has helped more than 4,000 higher education institutions better serve students and graduates, resulting in a strong reputation for its education mission and quality in the U.K., United States and Australia. Since its beginning more than 25 years ago, PlattForm has been dedicated to changing lives through education. Visit PlattForm.com to learn more.