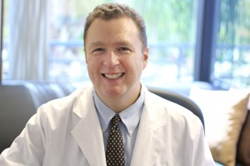 One of the advantages of constant improvement in technology is that easily accessible medical care is more widely available than ever before. - said Dr. Tracy
Carlsbad, CA (PRWEB) July 01, 2015
Research published in the journal JAMA Ophthamology showed that using the Portable Eye Examination Kit (Peek) smartphone app to test eyesight was just as accurate as those from standard paper-based charts and illuminated vision boxes found in eye clinics. The London School of Hygiene and Tropical Medicine is responsible for the development of the test, which does not depend on traditional familiarity with the symbols and letters used in the English language. Rather, Peek features letters in different orientations, for example showing a "tumbling E" on the screen. Patients stand two meters away from the smartphone and point in the direction they perceive the arms of the E to be pointing, while the tester uses the touch screen to swipe accordingly on the screen. Carlsbad ophthalmologist Dr. Michael Tracy comments on the possibilities of the Peek app.
"One of the advantages of constant improvement in technology is that easily accessible medical care is more widely available than ever before," said Carlsbad ophthalmologist Dr. Tracy. "The more people who are able to detect health issues, the more easily they can seek diagnosis and treatment."
According to the co-founder of Peek, the app was created to provide the blind populations of low-income countries new tools for diagnosis and detection. As mobile phones are widespread in low-income countries, they can be an ideal platform for eye tests. Although 80% of blindness is avoidable, existing eye care tools are difficult to use and access in low-income countries. The Peek eye-testing system consists of a mobile app and clip-on hardware that turns an Android smartphone into a portable examination and diagnostic suite. This system encompasses a wide variety of features, including geo-tagging, making locating a patient easier, and several eye tests, such as visual field, visual acuity, color vision, contrast sensitivity, lens imaging for cataracts, retinal imaging, and image grading.
"There are many conditions that can negatively affect eyesight," said Dr. Tracy. "Getting diagnostic tools into the hands of more people can provide both patients and ophthalmologists with the knowledge they need for better eye care."
Of the 233 patients incorporated in this test, all concluded that Peek Acuity software produced results equivalent to the expensive standard examination chart. The goal of Peek's study was aimed to develop a smartphone-based visual eye test that works in both challenging circumstances and in routine clinical practice in well-established healthcare systems. The Peek teams states that 285 million people around the world are visually impaired, 39 million of whom are actually blind. Ninety percent of visually impaired people are currently living in low-income countries where treatment has not been available.
"If mobile applications can bring fast and accurate testing to parts of the world that rarely have access to eye tests and treatment, severe diseases and blindness can be fought more effectively. When combined with experience ophthalmology treatment, successful eye care for everyone is more possible than ever," said Dr. Tracy.
Dr. Michael Tracy is a board-certified ophthalmologist in Carlsbad, CA. He completed his residency training in ophthalmology at the Scheie Eye Institute at the University of Pennsylvania and his fellowship in Corneal and Refractive Surgery at the Bascom Palmer Eye Institute. Dr. Tracy specializes in LASIK and PRK surgery at his private practice at Carlsbad Eye Care.
To contact Carlsbad Eye Care, please visit http://carlsbad-eye-care.com or call (760) 603-9910.