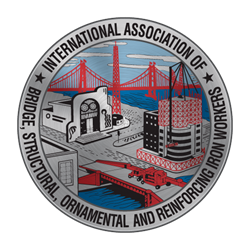 "I would highly encourage others to take advantage of these courses," said Alex Romero with Quinco Steel in Illinois.
Ann Arbor, Michigan (PRWEB) June 18, 2015
The Iron Workers take pride in offering the safest, most well-trained workforce in the world. The Iron Workers, the Iron Workers National Training Fund and the Iron Workers' labor-management arm, the Ironworker Management Progressive Action Trust (IMPACT), work hard to make sure ironworkers and their contractors have what it takes to succeed.
For the last 31 years, the Iron Workers have offered training courses for ironworker trainers through the Iron Workers National Training Fund. These ironworker courses are designed to strengthen the apprenticeship training and journeyman upgrading programs by preparing leaders.
In addition to the ironworker courses, the National Training Fund has partnered with IMPACT for the last 5 years to offer courses for signatory contractors. Working from feedback given by ironworkers and their contractors, IMPACT has expanded offerings for the 31st Annual Instructor Training Program to include a series of courses designed to best prepare contractors to be leaders in the field and grow their businesses. The contractor courses focus on teaching contractors cutting-edge technologies and best technology practices out in the field, business fundamentals, construction sales and many more topics geared toward helping contractors succeed.
IMPACT has partnered with FMI Consulting to offer many of the courses. FMI courses offered are the Job Profits Program, Project Leadership and Project Management and Getting Paid. All three of these courses aim to help contractors sharpen their business skills to maximize profits. IMPACT also partnered with the Board of Certified Safety Professionals to offer a "Train-the-Trainer" version of the highly-successful Safety Trained Supervisor Construction course. IMPACT has also tapped into the network of industry leaders and developed its own courses: Construction Contracting Business Fundamentals Academy, Understanding Your Construction Contract, Technology Tools for Cost Estimating and Technology Applications for the Field.
"By improving the skills of our instructors, apprenticeship coordinators, business managers and contractors, we have the safest and most competent workforce in the world," said Iron Workers General President Walter Wise.
Assisting the Iron Workers, both IMPACT and the National Training Fund worked with multiple leaders in the construction industry to identify contractors' needs and develop courses to meet these needs.
"I would highly encourage others to take advantage of these courses," said Alex Romero with Quinco Steel in Illinois. "Not only is the information provided helpful, listening to other fabricators and erectors share their experiences and ideas keeps the courses interactive. You'll learn both from professors and peers."
The 31st Annual Iron Workers Instructor Training Program and IMPACT Contractor Courses will be held at Washtenaw Community College in Ann Arbor, Mich., July 12-17, 2015.
About Iron Workers
Founded in 1896 in Pittsburgh, Penn., the International Association of Bridge, Structural, Ornamental and Reinforcing Iron Workers (Iron Workers) represents all of the union ironworkers throughout the United States and Canada. By improving the working conditions of its members and promoting constructive relationships with their employers, the Iron Workers delivers powerful solutions to increase skilled craftsmanship opportunities in the construction industry. http://www.ironworkers.org
About IMPACT
IMPACT's mission is to provide a forum for ironworkers and signatory contractors to discuss effective strategies to expand job opportunities through innovative labor-management cooperative programs. IMPACT provides expertise in training, construction certifications, marketing, construction project tracking and bidding, insurance and Davis-Bacon compliance efforts. http://www.impact-net.org