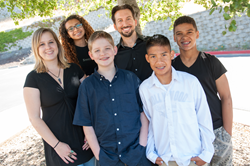 "My teeth have really improved from the first time that I came here. I am very grateful for Dr. Don and the Smile for a Lifetime Foundation." – Alexandra Landaverde
Colorado Springs, CO (PRWEB) June 29, 2015
Smile for a Lifetime donors and supporters make your donations for the year and help change lives through the gift of a smile. S4L is changing lives one smile at a time across North America and needs help to make a thousand more smiles available to children this year. A special promotion is in place for contributors between now and December 1st, 2015.
Donors will receive one (1) entry into the drawing for the Super Bowl Ultimate Experience for every $20.00 donation. Or for every $100.00 donated, donors will receive six (6) entries into the 2016 Super Bowl Ultimate Experience. One additional bonus ticket and one more chance to win this fantastic trip.NOTE: Donations must be specifically designated for the SB Ultimate Experience in order to be considered for the drawing.
Each donation will help S4L gift a smile to a deserving young person. Smile for a Lifetime's mission is to create self-confidence, inspire hope and change the life of a child in a dramatic way through the gift of a smile. Help S4L complete their mission in the coming year.
The 2016 Super Bowl Ultimate Experience includes:
2 Lower Level End Zone Super Bowl Tickets* on February 07th, 2016**
3 nights Hotel in San Francisco/Santa Clara area (Hyatt/Hilton or comparable)
Breakfast each morning
(2) Tickets to the Super Bowl Fan Fest
(2) Round Trip Airfare
Winspire Full time on site staff - Rental Car for the duration of the Event
**Seats can be upgraded to Lower Level Corners to 15 Yard Line for an additional $2,000.00 paid directly to Winspire at time of booking.
To date, Smile for a Lifetime has awarded over 20 million dollars of orthodontic products and services to deserving youth across North America. Only seven states are not served by S4L but S4L's staff is dedicated to make it happen in 2015. Donors can help Smile for a Lifetime reach exemplary youth with the life changing gift of a smile by contributing. Click here to gift a smile today.