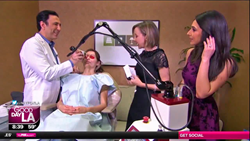 Los Angeles (PRWEB) June 18, 2015
On May 27, 2015, Elle Magazine in article titled "How to Take Care of Your Sunburn Like a Total Pro," offers readers a ten-step guideline for treating a sunburn. These steps include using ibuprofen and cold compresses to address pain and swelling. Products containing fragrances, retinols and acids should be avoided. (see: goo.gl/MvDJcA)
"Prevention is of the utmost importance," says Dr. Simon Ourian, Medical Director of Epione Beverly Hills. "Everyone should be using sunscreen daily and re-applying it often, especially while doing high risk activities. By high risk I mean any outdoor activity that requires prolonged sun exposure. Protective clothing can be even more valuable than sunscreen; a hat can protect both the scalp and the face from UVA and UVB damage."
According to the Elle Magazine article, sunburns are dehydrating and sufferers are advised to drink plenty of water. While skin peeling is likely inevitable, blisters may be a sign of a more severe burn that should be checked by a doctor. Collagen production requires Vitamin C, so citrus fruits are recommended, as is protein to assist with skin regeneration.
"Many still hold to the idea that a tan is attractive," says Dr. Ourian. "Unfortunately, I see the results of over-tanning on a daily basis. Setting aside the health implications, nothing hastens the appearance of aging more than prolonged sun exposure. At Epione, we offer the Coolaser treatment protocol to address the discoloration, spots, and fine lines and wrinkles caused by the sun."
Dr. Ourian has been a pioneer in laser technology and non-invasive aesthetic procedures including UltraShape, VelaShape, Restylane, Juvéderm, Radiesse, Sculptra, and CoolSculpting. These treatments are used for the correction or reversal of a variety of conditions such as acne, acne scars, skin discoloration, wrinkles, unwanted fat, stretch marks, varicose veins, cellulite, and others. More information about skincare can be found on Epione's website.