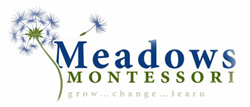 Frederick, MD (PRWEB) July 08, 2015
Meadows Montessori in Frederick, MD is pleased to announce the addition of a new level of child education to the school's curriculum. The Montessori school is proud to introduce its new lower elementary program that will include first grade through third grade students. Through these grades, students will gain knowledge from strong history, mathematics, geometry and science programs. They will also gain exposure to art and music education, as well as learning cursive handwriting and keyboard typing skills, amongst other experiences.
The lower elementary program consists of a community of learners undertaking an evidence-based, scientific approach to learning that has been proven successful for over 100 years all across the world. Montessori studies remain hands-on but also have an atmosphere of going out into the world to conduct research projects that relate to the general curriculum in the areas of science, history, art/music, geography, literature, language/grammar, math, geometry, and cosmic education. Within each academic area, numerous subjects are explored, often within the context of a larger study or theme.
Earlier this year, Meadows secured AMI-trained (grades 1 - 6) Ms. Jennifer November as the school's elementary teacher. Ms. Jennifer's knowledge of the elementary materials along with her passion for the age group will be of great benefit to both students and faculty. Meadows has also received Certificates of Approval by the Maryland State Department of Education and the City of Frederick.
Those who are interested in enrolling their child are encouraged to contact the school for more information as soon as possible. Parents may also schedule a tour to view the facility before enrolling.
About Meadows Montessori:
Meadows Montessori provides care that helps children build physical, social, emotional, creative and cognitive skills, while cultivating the whole being. Meadows is dedicated to offering a wealth of learning opportunities that will awaken and nurture the child's curious spirit within a warm and peaceful family environment, as an extension of the child's home life.
About the Montessori Method:
Montessori educators study the path of development from childhood to adulthood, and all the phases and Sensitive Periods that the child passes through, to understand how we can help, and not hinder, the work of the child. We aim to understand and help the child's natural unfolding and innate development.