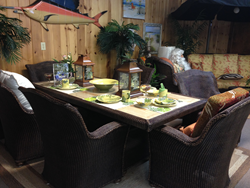 "We're in the entertainment business", says Sally Berlin, Owner of Crystal Crate and Cargo. "Many of our customers come in because they say we cheer them up – that we make them feel better by just stopping by to look, talk, and have some fun."
Benzonia, Michigan (PRWEB) June 19, 2015
"When you are looking for a new unique shopping experience within a relaxing setting consider Northern Michigan's Benzie County," says Mary Carroll, President of the Benzie County Visitors Bureau and Benzie County Chamber of Commerce. From art and antiques to state-of-the-art housewares, cooking supplies, and home furnishings, Benzie County has many unusual shops and shopping experiences. For the interior designer, art enthusiastists, home furnishing buyers and vacation travelers, Benzie County has a unique selection of showrooms and art galleries to explore and is one of the most picturesque places to stay along Lake Michigan's Sleeping Bear Dunes National Lakeshore. Benzie County is comprised of small towns, friendly people and interesting main streets. Art and antique events also take place all summer long.
Here are some of the towns and villages in Benzie County that feature one-of-a-kind shopping experiences, many dedicated to art and design.
Honor
Labadies Summer Place Casuals just east of Honor has one of the largest showrooms in the Midwest for high-quality outdoor furniture and outdoor grills. Labadies carries top brand names with quality that will last for generations and designs that are always fresh and timeless.
Frankfort
Betsie Bay Furniture in Frankfort features indoor design furnishings from contemporary, cottage, rustic, classic and vintage. This historical store setting in the middle of downtown Frankfort features room by room ideas to explore while you let your mind wander with possibility. Reminiscent of a museum quality showroom, Betsy Bay Furniture transports you to images of sitting by the water, in the woods and within natural beauty in your own home.
The Elizabeth Lane Oliver Art Center located in Frankfort was created in an old Coast Guard Station along the Betsie Bay and steps from Lake Michigan. Besides its picturesque setting, the Center is devoted to ongoing art exhibitions, special events, classes and art sales. Mary's Gift Gallery at the Art Center features affordable handmade jewelry, pottery, original prints and paintings, and unique gifts from more than 100 Michigan artists.
Ellie Harold Fine Art is based in Frankfort near Sleeping Bear Dunes National Lakeshore. Ellie Harold paints throughout the U.S., Puerto Rico and the United Kingdom. Her work is comprised of vibrant landscapes, still life, and abstractions in oil. Collectors appreciate her ability to capture the essence of each locale. She says, "Painting light and dark contrasts in my subjects brings me to an awareness of a deeper reality. It's this experience I love and long to share with others." Ellie does special commissions and also holds classes and open studio workshops.
Beulah
Crystal Crate and Cargo in Beulah is a store for world traveling shoppers, curiosity seekers and lovers of home furnishings and cookware gadgets. The store features the latest products for cooking, cleaning, serving or entertaining at home. For Sally Smith Berlin who started the store 35 years ago when housewares and cookware stores like Crate and Barrel and William Sonoma were just beginning, it began as a part time hobby. It's now a full time job with a world of benefits, like meeting interesting people from all over the world. Her customers include a top-level executive with the publishing company who owns the Food Network and Ivanka Trump's personal assistant – a few of her customers who visit Benzie County seasonally or have second homes in the area. When people visit Beulah and the Crystal Crate and Cargo they not only get an education in the newest gadgets on the market, but they also find out where to go for the perfect restaurant meal, who's a good caterer for their event, or even which doctor can help them with a medical issue. "We're in the entertainment business", says Berlin, "many of our customers come in because they say we cheer them up – that we make them feel better by just stopping by to look, talk, and have some fun."
Myers Granary Antique Market located in Beulah is a historic grain mill and 10,000-foot warehouse filled with quality antiques and collectibles. Myers Granary features two floors of antiques, enough to keep the casual or serious antique browser busy for a long time. They also offer Leelanau Cellars wine tasting and food sampling, another treat while shopping for that one-of-a-kind item.
Live For Art Gallery is located near the shores of beautiful Crystal Lake in downtown Beulah just a short distance from the Lake Michigan shoreline. The gallery showcases an eclectic mix of original artwork by Great Lakes and local area artists in a newly renovated award winning space.
Benzonia
Gwen Frostic Prints located in Benzonia is where the legendary Gwen Frostic housed her studio, showroom and printing business on a wildlife sanctuary. Her historic shop, which is still operational, is open to visitors to explore and shop her designs. The shop is built of native stones, glass, and wood and blends into its natural setting. From the display room, with its huge fireplace and natural fountain, visitors can watch as twelve Heidelberg presses print Frostic's characteristic designs. During her lifetime Gwen Frostic sketched flowers, birds, trees, grasses and other things found in nature. She cut each linoleum block by hand which were then used for creating her unique notepapers, calendars and books.
Crystal Lake Alpaca Boutique is a located on a 145-acre alpaca farm in Benzonia and overlooks Crystal Lake, one of the largest lakes in Michigan. Often the alpacas whose wool is used to make the items in the boutique can be seen grazing and gazing at visitors as they walk into the store. The boutique offers unique handmade items made of alpaca wool such as hats, mittens, scarves, socks, luxurious stuffed animals and apparel for men, women and children. Alpacas originated in South American where their wool was reserved just for royalty hundreds of years ago. Alpaca wool is beautiful, soft, warm and durable, it is also light allowing clothing to breathe and insulate in warm and cold temperatures.
Beedazzled located in Benzonia grew out of a family beekeeping cottage business. The owners had a vision to create beneficial products that could be made from what their honeybees produced. BeeDazzled is nestled in the gently rolling hills of Benzie County, and is surrounded by gardens. Guests can sit on the porch and watch as honeybees gather nectar and pollen from herbs, flowers, and vegetables and fly to an observation hive where the honey is stored. Inside Bedazzled, shop workers can often be observed making many of the products sold such as dipped and poured hand made candles and fragrant soaps.
Empire
Sleeping Bear Gallery just north of Benzie County in Empire is located in the historic Clipper Building, just a stone's throw from Lake Michigan Beach Park, in the heart of the Sleeping Bear Dunes. They feature unique art including Metals, Wood, Glass, Fiber, Painting, Sculptures, Ceramics, and Photography. Sleeping Bear Gallery also is an interactive gallery featuring live demos from glassblowers, blacksmiths, jewelers and more.
For more information on Benzie County lodging, restaurants, shops and events contact Benzie County Visitors Bureau at 1-800-882-5801 or see http://www.visitbenzie.com. Through October 31, 2015 Benzie County Visitors Bureau is offering a getaway package that includes nearly $200 worth of free activities, food and gift items from various restaurants and businesses throughout the county. Visitors who stay 2 or more consecutive nights at one of the many participating Benzie County lodging locations can participate in the package called the "Benzie Treasure Trove". See http://www.visitbenzie.com to sign up for the promotion online*.
*Visitors need to sign up online in order to receive the "Benzie Treasure Trove" validation form.
Culinary Interests, Arts, and Festivals
Benzie County has unique restaurants, Stormcloud Brewing Company and St. Ambrose Cellars for sampling brews, wines and meads. Benzie County is also in close proximity to the Leelanau and Old Mission Peninsula less than one hour away for day tours. Arts and crafts fairs take place in the many towns and villages all summer long.
Information about Benzie County
Benzie County is located only 30 minutes west of Traverse City, Michigan. With quaint vacation towns and villages such as Frankfort, Elberta, Honor, Thompsonville, Beulah, Benzonia, and Lake Ann plus the majestic Crystal Lake, Benzie County is a perfect setting for a relaxed getaway. Benzie County has spectacular beaches, miles of biking and walking paths, views of Lake Michigan, and plenty of great restaurants and shops as well as attractions. Perfectly situated along the Sleeping Bear Dunes National Lakeshore, Benzie County, Michigan has nearly 30 miles of Lake Michigan coastline, 57 inland lakes, hills and valleys, 22 miles for biking along the Betsie Valley Trail, and approximately 200 miles of rivers. Outdoor activities in the spring, summer and fall include fishing, golfing, biking, hiking, running, and kayaking to name a few.
BENZIE COUNTY SUMMER ART FAIRS & ANTIQUE SHOWS 2015
Frankfort Craft Fair
Frankfort
June 20, 2015
The annual Frankfort Craft Fair starts the summer season in Frankfort with unique craft art of over 75 artists. For more information see http://www.Frankfort-elberta.com or call 231-352-7251.
Beulah Art Fair
Beulah
July 11, 2015
Artisans from the region gather in the quaint Northern Michigan village of Beulah. Call 800-882-5801 for more information. Call 800-882-5801 for more information.
Port City Art & Craft Fair
Frankfort
July 18, 2015
The Port City Art & Craft Fair takes place in the beautiful city of Frankfort at Frankfort Market Square Park featuring over 75 artists. For more information see http://www.Frankfort-elberta.com or call 231-352-7251.
Frankfort Art Fair
Frankfort
August 14-15, 2015
This fine arts juried fair includes the works of over 175 artists. For more information see http://www.Frankfort-elberta.com or call 231-352-7251.
Collector Car Show & Antique/Classic Boat Show
Frankfort
August 15, 2015
This Collector Car Show in Frankfort brings out the best in vintage automobiles, and boats. For more information see http://www.Frankfort-elberta.com or call 231-352-7251.
###