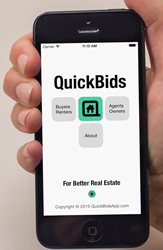 "QuickBids got it right, they understood what the Millennials really wanted", said successful Real Estate agent, Nichole Caplan, and they delivered."
Dana Point, California (PRWEB) June 22, 2015
"The idea for the QuickBids App resulted from research that pointed to some unfulfilled Millennial needs in the Real Estate Market", according to Steven G. Weiser, Managing Partner for QuickBidsApp, LLC.
Research shows when Millennials identify homes that meet their needs, they want to move forward very quickly. In today's fast paced often limited inventory market, Millennials know the fastest most qualified Buyer or Renter often wins. Most Millennials search for properties at the public search sites like Zillow.com, Realtor.com, Apartments.com, or FSBO.com (a For Sale by Owner site). These big public search sites handle the majority of all consumer property searches, but still use older and slower technology to manage consumer inquiries ... the telephone and 'canned' email systems still rule the day in connecting Buyers, Renters and Real Estate agents. Millennials prefer the speed and response of texting as their first preference in social communicating and the research shows texting was preferred in real estate as well.
The QuickBids Team listened to Millennials and studied the public search websites, and came up with the solution –QuickBids, the Mobile App. According to Weiser, "this App talks the language of the fastest growing market for Buyers and Renters of real estate … those Buyers and Renters 20 to 39 years of age. These Millennials account for about 45% of all current residential real estate transactions. Lead Developer and Managing Partner Mark Smith agreed … "Realizing the potential to help the Millennials , the Team worked to further develop the concept, beta test in the User community and release to iTunes on June 1, 2015". Weiser added, "the App with easy links to the major property search sites empowers Buyers and Renters with the speed and format they need to win ".
According to Nicole Caplan, a successful Millennial Realtor with ReMax, "QuickBids got it right! They built an easy to use App that lets a Buyer or Renter text a Listing Agent or Owner an opening bid with qualifications in a professional formatted presentation. "Receiving a QuickBids is a real attention getter for an Agent like myself, stated Ms. Caplan. I appreciate getting contacted by a Buyer or Renter that loves my listing and is ready 'to go' demonstrating financing, credit worthiness, a sense of urgency with a warm letter of introduction … very professional."
Weiser agrees with Ms. Caplan, and notes, "Also with QuickBids, potential Buyers and Renters can request an immediate property showing or ask a QuickBids Area Market Specialist for an independent price opinion." "Early feedback from users is pretty positive", Weiser adds … users are saying -- this App has lots of cool features".